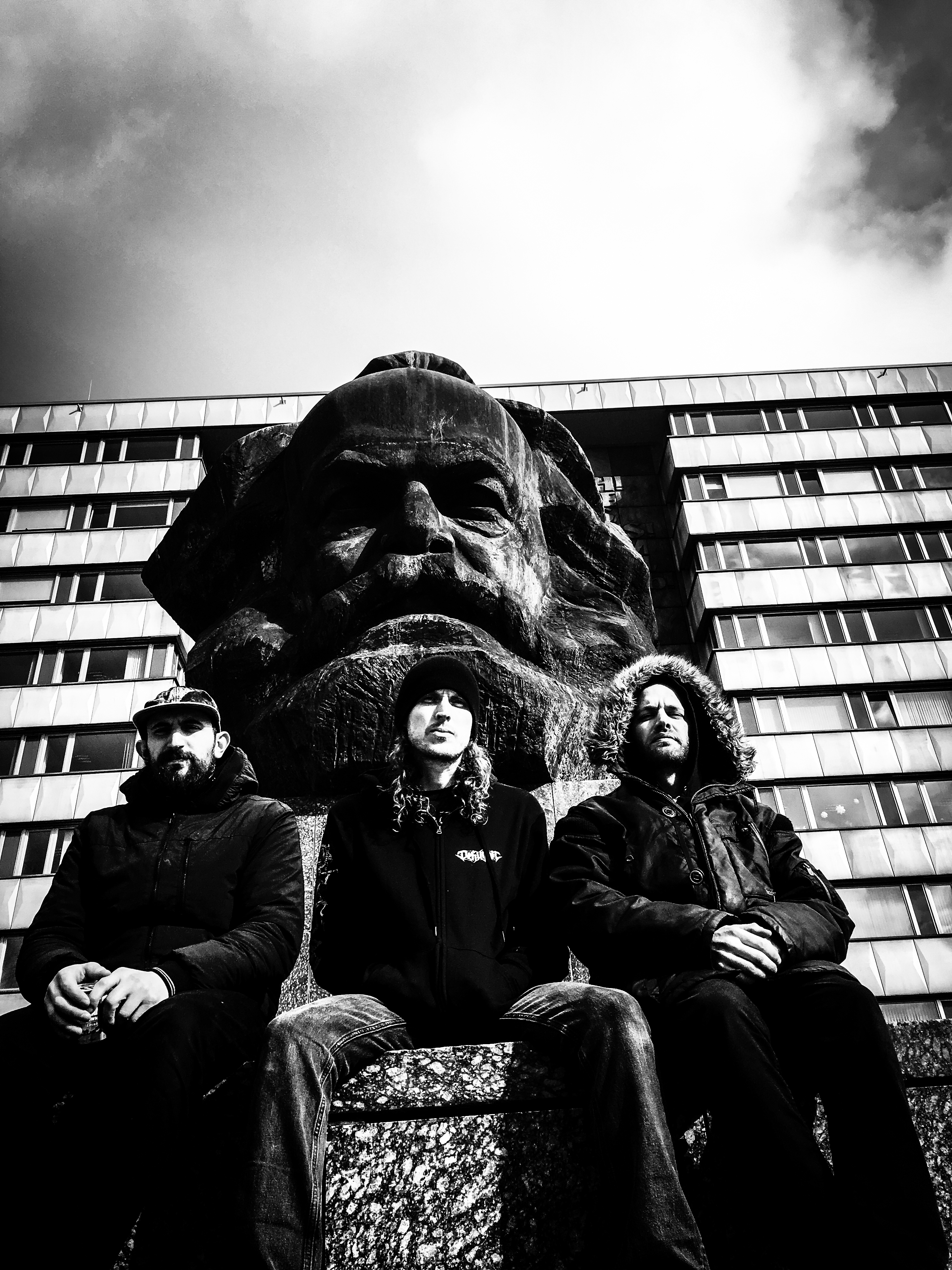 Philadelphia's grindcore powerhouse trio DIE CHOKING will embark on a tour of the East Coast and Great Lakes regions this week. The tour commences this Thursday, August 10th at Philly's Barbary where they will meet up with London, UK's spastic fastcore punks, Mister Lizard, and the angular sonic marauders in Columbia, South Carolina's Bathe for an eleven-date stretch.
DIE CHOKING's tour with Mister Lizard and Bathe will highlight various bands throughout the bustling DIY punk community including shows with Grin and Bear It, Falter, Deterioration, Eaten Alive, and more. The August 19th show at Cleveland's Now That's Class venue is an absolutely stacked billing that will also include legendary fastcore band Siege's final area performance, plus special guests, and Cleveland hardcore punk mainstays, Fuck You Pay Me. The following night, August 20th at Pittsburgh's ninth annual gathering of the punks, Skull Fest, will conclude the trek in raucous fashion.
Drummer Joshua Cohen commented on the tour, stating, "I love that we're doing a true DIY run and bringing out two young, explosive bands from separate ends of the globe with two totally different spins on aggressive music. All of these shows have been booked by people actively supporting and involved in their respective DIY scenes. Which is important to recognize. We couldn't do what we do without them. Mister Lizard and Bathe both put on absolutely insane live shows, so we're totally stoked to bring a unique, high-energy, and high-quality package to such a rad set of intimate performances at proper punk-show prices."
DIE CHOKING continues to prepare material for the follow-up to their III LP with the forthcoming trek seeing the band debuting two fresh cuts. Cohen states, "We recently relocated our rehearsal space and have been putting some serious time drilling ourselves with the metronome. While we don't use a metronome for our live shows because that organic immediacy is important to us, the new rehearsal formula has definitely forced us to ramp up the intensity of new the songs and the live set. We're hitting a stride where the music is at its most unrelenting and dense to date."
Stay current with a full list of tour dates, ticket links, and event pages HERE and see all individual show flyers HERE.
DIE CHOKING Tour Dates:
8/10/2017 The Barbary – Philadelphia, PA w/ Mister Lizard, Bathe, Eaten Alive, Ratkicker
8/11/2017 Castle Blackburn – Burtonsville, MD w/ Mister Lizard, Bathe, Ampallang Infection, No Mas
8/12/2017 The Bug Jar – Rochester, NY w/ Sulaco, Mister Lizard, Bathe
8/13/2017 Cork Town – Detroit, MI w/ Mister Lizard, Bathe, Mutilatred, Squalid
8/14/2017 The Workshop – Grand Rapids, MI w/ Mister Lizard, Bathe, Fuktopsy, Attrition Cult
8/15/2017 Ground Zero – Milwaukee, WI w/ Mister Lizard, Bathe, Falter, Pains
8/16/2017 Hexagon – Minneapolis, MN w/ Mister Lizard, Bathe, Deterioration, Invidiosus, Violence Condoned
8/17/2017 The Rad Pad – Appleton, WI w/ Mister Lizard, Bathe, Forcefield
8/18/2017 ChiTown Fubol – Chicago, IL w/ Mister Lizard, Bathe, Ruptured
8/19/2017 Now That's Class – Cleveland, OH w/ Siege, Grind And Bear It, FYPM, Mister Lizard, Bathe
8/20/2017 Gooski's – Pittsburgh, PA @ Skull Fest w/ Mister Lizard, Bathe, Slaves BC, Brown Angel [info]
9/7/2017 Siren Records – Doylestown, PA
DIE CHOKING has been on steady path of annihilation following the release of heralded 2015 debut full-length, III, recorded with renowned studio engineer Will Yip (Code Orange, Lauryn Hill, Turnstile) at Studio 4 in Conshohocken, Pennsylvania. III was released via The Compound Recs on limited edition vinyl, and subsequently co-released on CD between The Compound and Selfmadegod Records.
Order III digitally via DIE CHOKING's Bandcamp HERE,  iTunes HERE, and Spotify HERE. Find the LP and CD as well as the final copies of the band's self-titled debut and II 7" EPs at The Compound Recs HERE, and all versions of the album and merch at the band's webstore HERE.
Sickdrummer Magazine recently featured an isolated video of drummer Josh Cohen during March's sold-out Decibel Metal & Beer Fest, view HERE. A multi-cam collaboration of the same performance has surfaced, crafted by some of the metal scene's top videographers including Jeff Grindstopher of Sickdrummer, Frank Huang of Maximum Volume Silence/Metal Injection, and Metal Nick. You can view the collab HERE. Just weeks prior, the prolific Sunny Singh of Hatefivesix.com posted a full set of DIE CHOKING live at Saint Vitus Bar in Brooklyn where the band joined hardcore legends All Out War for an area benefit for Decibel writer Sean Bosler, view it HERE.
III has received accolades from top purveyors including Decibel Magazine, Noisey, Stereogum, CvltNation, and many more, including Metal Injection, who issued in part, ""What makes DIE CHOKING such an interesting band to listen to is two things: their insane riffage/drumming and their ability to never be boring… DIE CHOKING have a talent for writing song after song that's actually interesting. Hell, the first track 'Millirem' goes through a pelthora of riffs and killer drum blasts, all while Herzog's voice shouts and screams over the madness. By the time it's over nothing feels safe."
DIE CHOKING took its insanely fast chops to the road having seen successful tours through Europe, and numerous stretches through Canada and the US over the past two years. Standout performances at top festivals including Maryland Deathfest, Montreal's Earslaughter Fest, Full Terror Assault Open Air, Berserker Fest, multiple 1Fest dates, and more, have earned the band a well-deserved buzz as one of the underground's premiere up-and-coming talents.  The band has built a reputation for road treks as insane as the music, seeing back to back shows and drives from places like Minneapolis to Denver, not uncommon.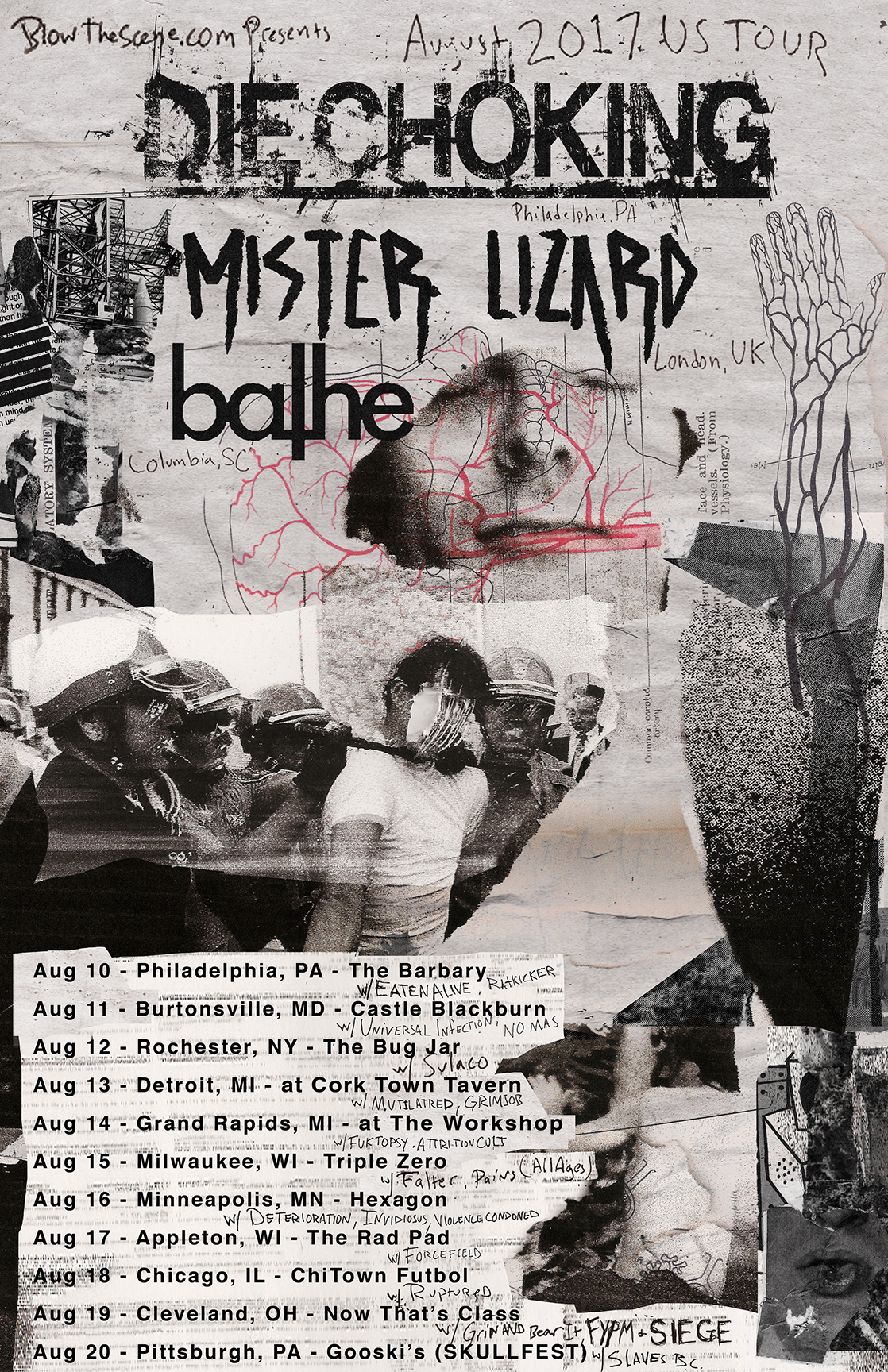 http://www.diechoking.com
https://diechoking.bandcamp.com
https://www.facebook.com/diechoking
https://www.instagram.com/diechoking
https://www.twitter.com/diechoking
https://www.youtube.com/user/diechoking
http://www.facebook.com/TheCompoundRecs
http://www.thecompoundrecs.com
http://www.earsplitdistro.com
http://www.thecompound.bandcamp.com