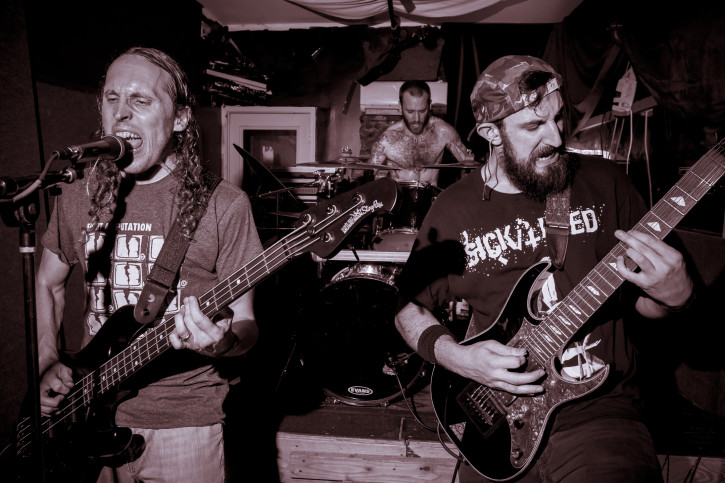 [photo by Dante Torrieri]
Following their crushing set at Maryland Deathfest, Philly maniacs DIE CHOKING embark on a new live binge dubbed No Sleep Till Philly this weekend, June 23rd, 24th, and 25th, packing four shows into three days.
DIE CHOKING will hit three 1Fest events – Brooklyn on Friday, Washington DC on Saturday, and Philadelphia on Sunday – touring with infamous Los Angeles powerviolence crew Crom, as well as Wildspeaker and Antwon. Sunday sees DIE CHOKING tackling a double-header, as the trio will kick off the day at the Psychedelic Breakfast, with An Albatross and Residuels, which begins at an unprecedented 6am! The band will be filming and posting sporadically throughout the four-day stint, posting with the tag #nosleeptillphilly.
DIE CHOKING's next live assault is the band's Eastern US August tour with Mister Lizard, Bathe, and others. Watch for additional live updates and more as the band prepares to record their second LP in the coming months.
SickDrummer Magazine has just posted a live video of DIE CHOKING slaying the audience at Decibel Metal & Beer Fest with the track "Telos" – view the carnage at THIS LOCATION.
Purchase DIE CHOKING's III LP and CD through The Compound Recs HERE, with merch and all music available from the band HERE and HERE.
DIE CHOKING Tour Dates:
6/23/2017 Brooklyn Bazaar – Brooklyn, NY @1Fest w/ Crom, Escuela, Wildspeaker
6/24/2017 The Pinch – Washington, DC @1Fest w/ Crom, Escuela, Wildspeaker, Suppression
6/25/2017 The Barbary – Philadephia, PA @ Psychedelic Breakfast w/ An Albatross, Residuels (6am!) [info]
6/25/2017 Millcreek Tavern – Philadelphia, PA @1Fest w/ Crom, Escuela, Wildspeaker, Soul Glo
8/10/2017 The Barbary – Philadelphia, PA w/ Mister Lizard, Bathe
8/11/2017 Castle Blackburn – Burtonsville, MD w/ Mister Lizard, Bathe, Ampallang Infection, Universal Remonster
8/12/2017 The Bug Jar – Rochester, NY w/ Sulaco, Mister Lizard, Bathe
8/13/2017 Cork Town – Detroit, MI w/ Mister Lizard, Bathe
8/14/2017 The Workshop – Grand Rapids, MI w/ Mister Lizard, Bathe
8/15/2017 Triple Zero – Milwaukee, WI w/ Mister Lizard, Bathe, Falter, Pains
8/16/2017 Hexagon – Minneapolis, MN w/ Mister Lizard, Bathe Deterioration
8/17/2017 The Rad Pad – Appleton, WI w/ Mister Lizard, Bathe
8/18/2017 The Mousetrap – Chicago, IL w/ Mister Lizard, Bathe, Ruptured
8/19/2017 Now That's Class – Cleveland, OH w/ Siege, Grind And Bear It, FYPM, Mister Lizard, Bathe
8/20/2017 Gooski's – Pittsburgh, PA @ Skull Fest w/ Mister Lizard, Bathe, Slaves BC [info]
9/07/2017 Siren Records – Doylestown, PA
http://www.diechoking.com
http://www.facebook.com/diechoking
http://www.diechoking.bandcamp.com
http://www.facebook.com/TheCompoundRecs
http://www.thecompoundrecs.com
http://www.earsplitdistro.com
http://www.thecompound.bandcamp.com