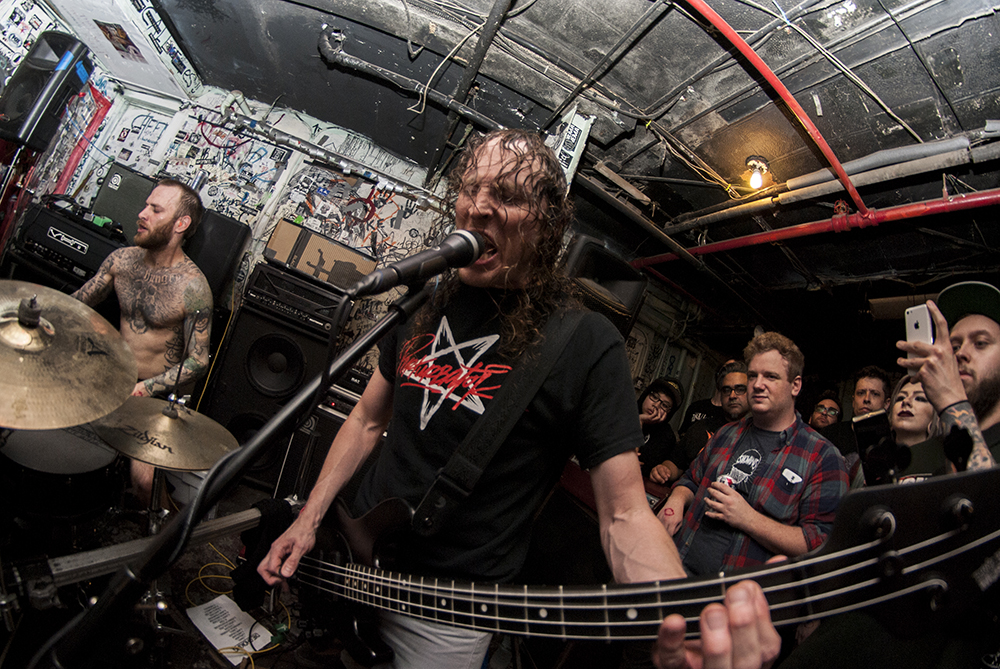 [photo by Paul Buczkowski]
Pummeling Philadelphia grindcore trio DIE CHOKING has confirmed an August US tour with Mister Lizard and Bathe, releasing the dates alongside new visual evidence of the band's live shock-and-awe tactics.
Preceding the newly-confirmed tour, DIE CHOKING will be storming several fest shows, beginning with the Official Decibel Magazine Metal & Beer Fest Pre-Party Matinee presented by BlowTheScene.com in Philadelphia, next Saturday, April 22nd, the show also featuring Pyrrhon and doubling as a record release show for Artificial Brain. May 26th sees the band heading north to Ithaca to take part in the next installment of 1Fest alongside Artificial Brain, Disparo, and others. Two days later, DIE CHOKING travels to Baltimore for their debut Maryland Deathfest performance with Terrorizer, Iron Lung, War Master, PLF, Genocide Pact, Suppression, and others.
DIE CHOKING's newly-booked Sumer tour runs through the East Coast and Midwest states from August 10th through 20th, also presented by BlowTheScene.com. As with their unstoppable III debut LP, the band will utilize their upcoming Spring and Summer tour dates as testing ground for new material, as the band prepares to record its follow-up, IV, early in the Fall season. Joining DIE CHOKING will be unhinged London, UK-based parody violence band Mister Lizard, who combines elements of hardcore punk, powerviolence, and quirky experimental parts into furiously insane live shows, and Columbia, South Carolina-based angular grind/metal squad Bathe, which features members of Abacus, with wild movements and crescendos that absolutely destroy. Both acts are bound to make waves.
See all tour current DIE CHOKING tour dates below and find an event page for the Summer tour HERE.
DIE CHOKING recently played a one-off show in Brooklyn, New York as part of Bozzfest alongside All Out War and others, the show acting as a benefit for Decibel Magazine writer David Shawn Bosler, who was badly hurt in a car accident over the holidays. DIE CHOKING's entire set — which included guest vocals by Deb Cohen on the track "Civilian" – is now playing RIGHT HERE.
The remaining copies of DIE CHOKING's III LP as well as the CD version is available through The Compound Recs HERE, with merch and all music available from the band HERE and HERE, and the CD is available in Europe through Selfmadegod HERE.

DIE CHOKING Tour Dates:
5/22/2017 The Barbary – Philadelphia, PA @ Decibel Magazine Metal & Beer Fest Pre-Party w/ Artificial Brain, Pyrrhon [info]
5/26/2017 The Haunt – Ithaca, NY @ 1Fest w/Artificial Brain, Disparo, more [info]
5/28/2017 Baltimore Soundstage – Baltimore, MD @ Maryland Deathfest w/ Terrorizer, Insect Warfare, Iron Lung, Suppression [info]
DIE CHOKING w/ Mister Lizard, Bathe:
8/10/2017 Kung-Fu Necktie – Philadelphia, PA
8/11/2017 Castle Blackburn – Burtonsville, MD w/ Ampallang Infection, Universal Remonster
8/12/2017 The Bug Jar – Rochester, NY w/ Sulaco
8/13/2017 TBA – Detroit, MI
8/14/2017 TBA – Grand Rapids, MI
8/15/2017 Triple Zero – Milwaukee, WI w/ Falter, Pains
8/16/2017 Hexagon – Minneapolis, MN w/ Deterioration
8/17/2017 The Rad Pad – Appleton, WI
8/18/2017 The Mousetrap – Chicago, IL
8/19/2017 Now That's Class – Cleveland, OH w/ Grind And Bear It, MDLF, + special headliner
8/20/2017 The Shop – Pittsburgh, PA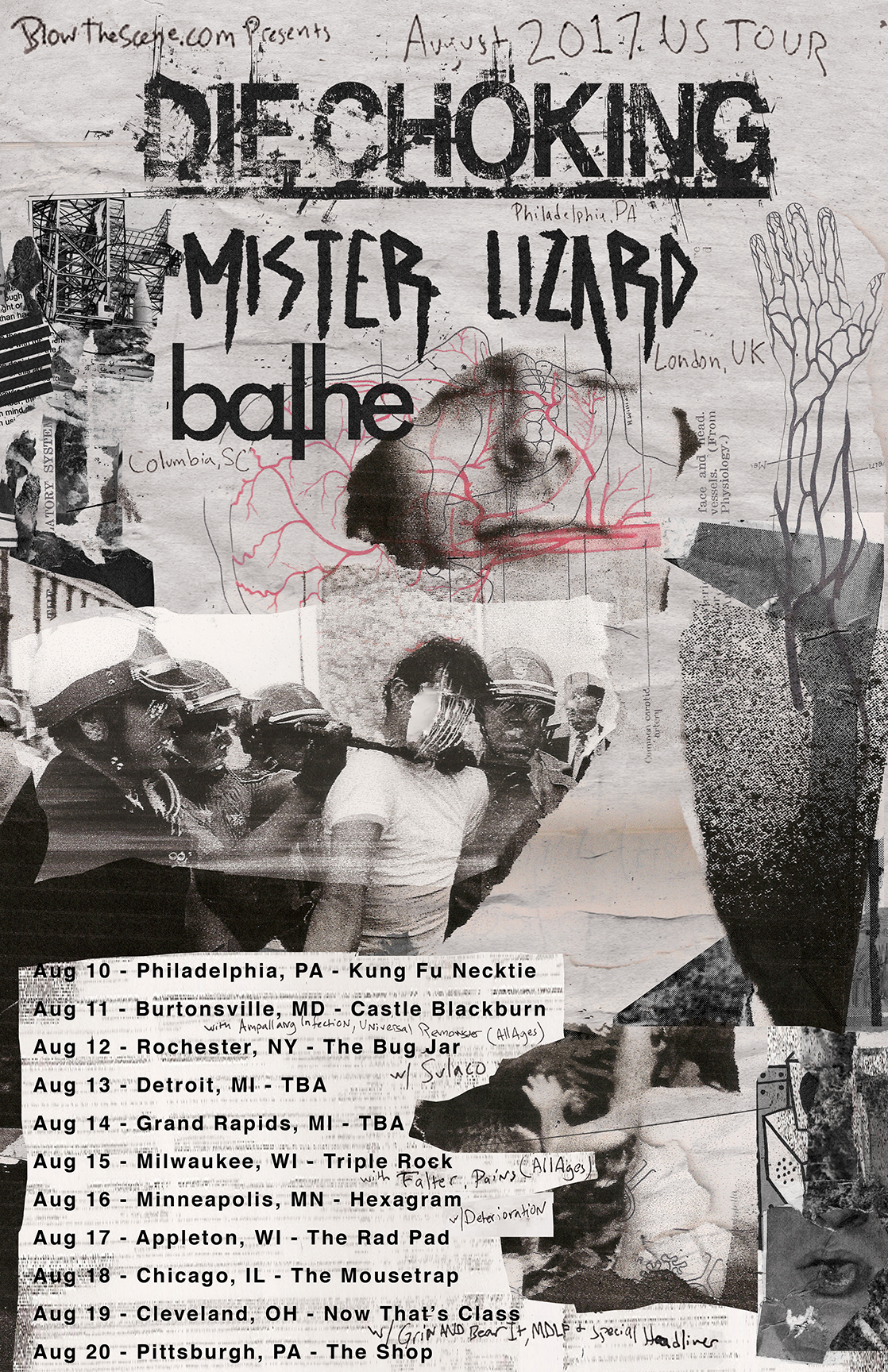 http://www.diechoking.com
http://www.facebook.com/diechoking
http://www.diechoking.bandcamp.com
http://www.facebook.com/TheCompoundRecs
http://www.thecompoundrecs.com
http://www.earsplitdistro.com
http://www.thecompound.bandcamp.com