From amidst their currently ongoing North American tour out to the New England Metal & Hardcore Festival — set to perform tomorrow, Thursday, April 17th alongside labelmates, Cop Problem — and beyond, ENABLER has been confirmed as opening support for Eyehategod and Ringworm on a bruising, month-long US tour from the end of May through late June. The trek begins just one day after both ENABLER and Eyehategod release their brand new LPs and three days after ENABLER marks their debut performance at Maryland Deathfest.
ENABLER has also just been confirmed to take part in The Fest 13 gathering in Gainesville, Florida, running from October 31st through November 2nd and including Hot Water Music, Touché Amoré, Masked Intruder and dozens of other acts. This is just one of many new tour actions to be announced as the band will be on the road virtually nonstop all year in support of their impending second LP, La Fin Absolue Du Monde.
A thirty-six minute battering of ENABLER's most diverse and calculated material to date, La Fin Absolue Du Monde was tracked with Shane Hotchstetler at Howl Street Recordings (Expire, Northless) and mixed by Steve Austin (Today Is The Day) at Austin Enterprises. Lambgoat has premiered a brand new track from the LP, in the form of its second track, "New Life." Unloading an immense lyrical sense of dread, loss and confusion, yet bursting with a rush of driving energy, while ENABLER's ability to pack hooks catchier than The Black Plague into each track holds true straight to the bitter end.
Stream "New Life" via Lambgoat now at

THIS LOCATION

.
Also hear the previously released "Prey" at MetalSucks RIGHT HERE.
La Fin Absolue Du Monde will see release via The Compound and Creator-Destructor Records on May 27th. Currently in manufacturing at the mighty Pirates Press, the vinyl version will come in two schemes; the Creator-Destructor version in a half-and-half Grey/"Halloween Orange" pattern, and The Compound version on grey wax with heavy Black/White/"Orange Crush" splatter, each in runs of 250 copies in a wide-spine, uncoated jacket with a digital download code included. The CD will be housed with a high-quality, six-panel digipak. Preorders are available via The Compound HERE, via Creator-Destructor HERE, and digital preorders are live HERE.
ENABLER Tour Actions:
4/09/2014 Quarters – Milwaukee, WI
4/10/2014 Dragonfly Lounge – Madison, WI
4/11/2014 Error Records – Champagne, IL @ Skeletal Lightning Fest II
4/12/2014 Bier Stube – Moline, IL w/ Northless
4/13/2014 The Demo – St. Louis, MO
4/14/2014 The Donut Shop – Covington, KY
4/15/2014 Live at the Alamo – Erie, PA
4/16/2014 Badlands – Syracuse, NY
4/17/2014 The Palladium – Worcester, MA @ New England Metal & Hardcore Fest w/ Cop Problem
4/18/2014 The Worthen – Lowell, MA w/ Cop Problem
4/19/2014 Grand Victory – Brooklyn, NY w/ Cop Problem, Go Deep, Agitator
4/20/2014 Backroom Studios – Rockaway, NJ w/ Cop Problem
4/21/2014 Black Box – Philadelphia, PA w/ Cop Problem, Outer Heaven, Occult 45, Population Zero
4/22/2014 The Hook Up – Virginia Beach, VA
4/23/2014 Strange Matter – Richmond, VA
4/24/2014 Mr. Roboto Project – Pittsburgh, PA w/ Die Choking, Black Mask, Meth Quarry, Rabid Pigs
4/25/2014 Carabar – Columbus, OH @ Forward Ohio Fest
4/26/2014 Blind Bob's – Dayton, OH
4/27/2014 Cobra Lounge – Chicago, IL w/ Iron Reagan, Occultist
5/15/2014 Coach and Horses – Windsor, ON
5/16/2014 Centre-Ville De – Montreal, QC @ Pouzza Fest
5/17/2014 The Central – Toronto, ON
5/18/2014 HvyHouse – Ottawa, ON
5/20/2014 Bar Le Megog – Sherbrooke, QC
5/21/2014 TBA – Burlington, VT
5/22/2014 Geno's Rock Club – Portland, ME
5/23/2014 Even Flow – Bay Shore, NY w/ Maruta
5/25/2014 Baltimore Sound Stage – Baltimore, MD @ Maryland Deathfest
5/28/2014 Masquerade – Atlanta, GA *
5/29/2014 Drunk Horse – Fayetteville, NC *
5/30/2014 Chop Shop – Charlotte NC *
5/31/2014 611 – Frederick, MD *
6/01/2014 Underground Arts – Philadelphia, PA *
6/02/2014 Rex Theater – Pittsburgh, PA *
6/03/2014 Strange Matter – Richmond, VA *
6/04/2014 American Legion Post 80 – Binghamton, NY *
6/05/2014 Brighton Music Hall – Boston, MA *
6/06/2014 Even Flow – Long Island, NY *
6/07/2014 Europa – Brooklyn, NY *
6/08/2014 Basement Transmissions – Erie, PA *
6/09/2014 Bug Jar – Rochester, NY *
6/10/2014 Loving Touch – Detroit, MI *
6/11/2014 Now That's Class – Cleveland, OH *
6/12/2014 Birdy's – Indianapolis, IN *
6/13/2014 Cobra Lounge – Chicago, IL *
6/14/2014 Pyramid Scheme – Grand Rapids, MI *
6/15/2014 Bottom End Bar – Appleton, WI *
6/16/2014 Triple Rock – Minneapolis, MN *
6/17/2014 TBA *
6/18/2014 Fubar – St. Louis, MO *
6/19/2014 Hi Tone – Memphis, TN *
6/20/2014 Southport – New Orleans, LA *
6/21/2014 Dollhouse – Savannah, GA *
6/22/2014 Orpheum – Tampa, FL *
6/23/2014 Looseys – Gainesville, FL *
6/24/2014 Zydeco – Birmingham, AL
6/25/2014 The Handlebar – Pensacola, FL *
10/31/11/02/2014 The Fest 13 – Gainesville, FL [info]
[* w/ Eyehategod, Ringworm]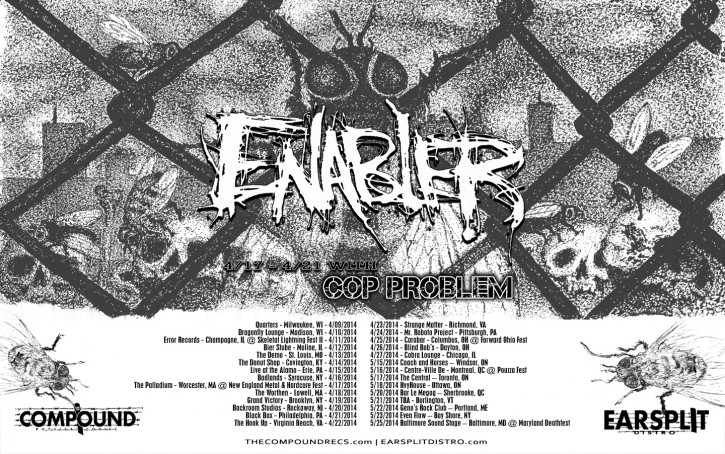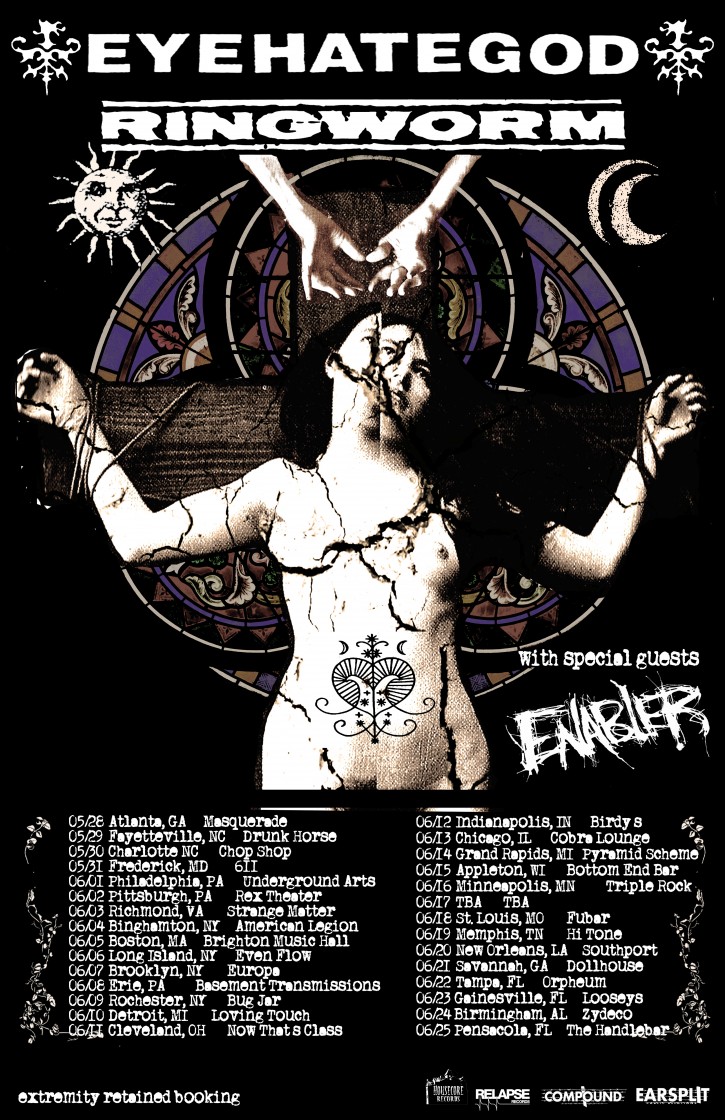 http://enablermke.bandcamp.com
https://www.facebook.com/enablerband
http://www.thecompoundrecs.com
http://www.facebook.com/thecompoundrecs
http://www.earsplitdistro.com
http://creator-destructor.com