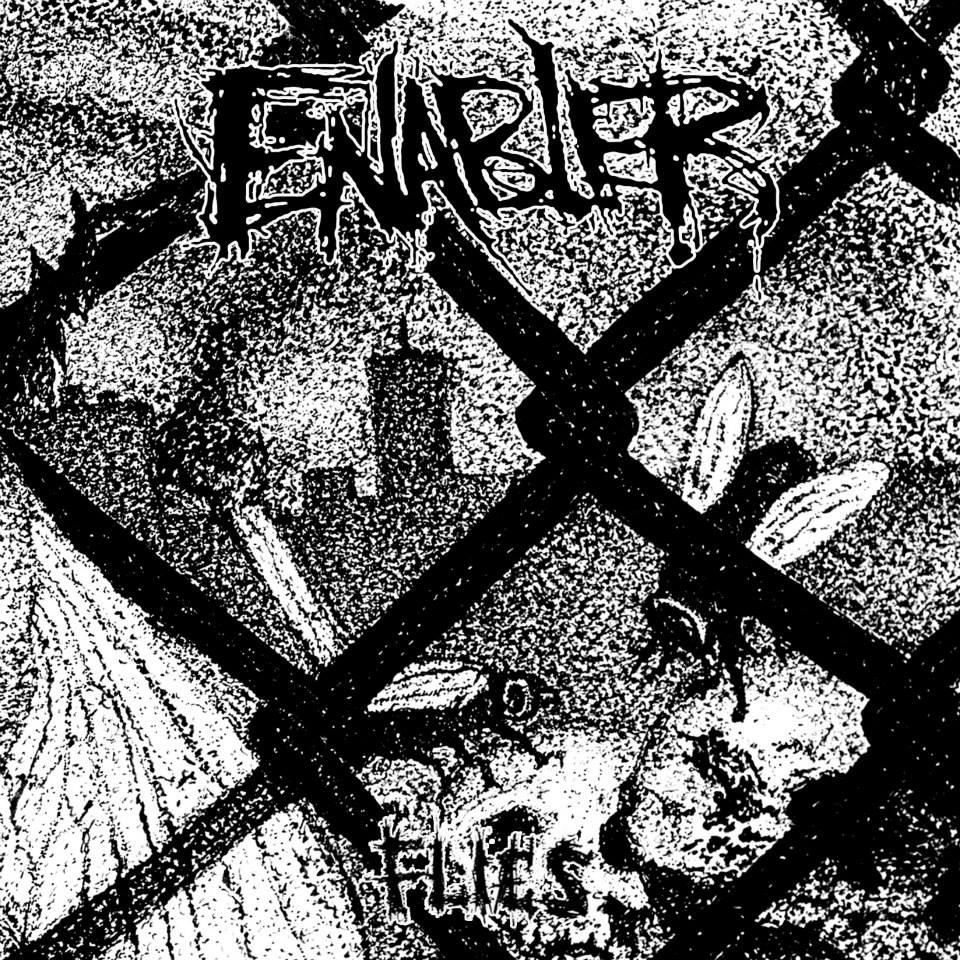 ENABLER – Flies
RAE TILPS 001 – CD / Import 12" / Digital
The Compound's first release; Flies, by Midwestern US outfit, ENABLER, followed the band's All Hail The Void debut LP on Southern Lord and Shift Of Redemption EP on Think Fast! Six furious punk-infused metallic hardcore anthems including five originals and a cover of Sepultura's "Arise." Released on Samhain 2013 on four-panel eco-friendly digipak CD and digital formats; limited, 180-gram black screen printed and clear/splatter screen printed 12" vinyl runs were later licensed to London-based Holy Roar Records.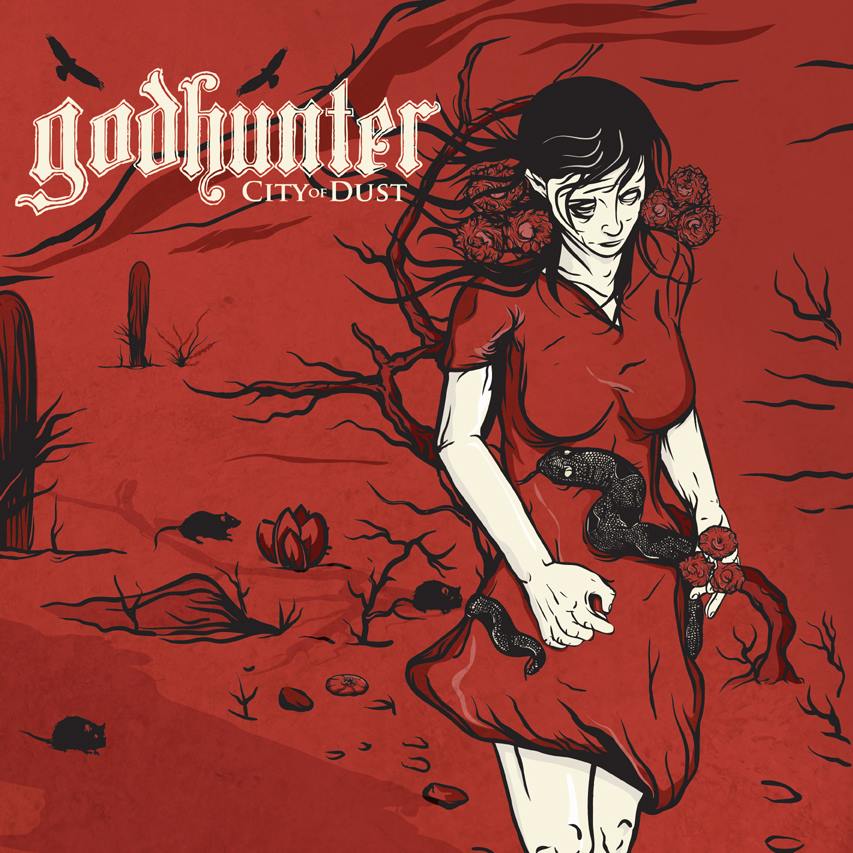 GODHUNTER – City Of Dust
RAE TILPS 002 – CD / LP / Cassette / Digital
City Of Dust is the debut LP from Tucson, Arizona's GODHUNTER. The label's first full-length release packs fifty minutes of corrosive, groove-laden, politically-charged sludge metal addressing a wide array of vital societal issues affecting their home region, including equal rights, a widespread water shortage, immigration and more. Recorded with Ryan Butler (Landmine Marathon, Unruh) at Arcane Digital Studios (Exhumed, Misery Index), City Of Dust was released in conjunction with the band's then brand new Battleground Records, the album saw release in a four-panel eco-friendly digipak CD and digitally in February 2014, followed in the Spring by a limited clear/desert rose haze 180-gram LP and full-color 12″x24″ lyric/liner sheet and more.
COP PROBLEM – Buried Beneath White Noise
RAE TILPS 003 – 7" / Digital
The second release from Philadelphia-based hardcore punk protesters, COP PROBLEM, Buried Beneath White Noise saw vinyl release in February 2014 with The Compound handling North America and Prejudice Me handling the title for Europe. The blistering four-track EP combines the most ferocious elements of crust punk, metal, grind, and hardcore in a high octane, hybrid, recorded at Studio 4 with engineer/producer Will Yip (Paint It Black, Circa Survive, Blacklisted), the lyrics tackling political corruption and oppression. The 7" is available on translucent green vinyl, limited to 200 copies and exclusive to The Compound, and a black pressing of 300 copies.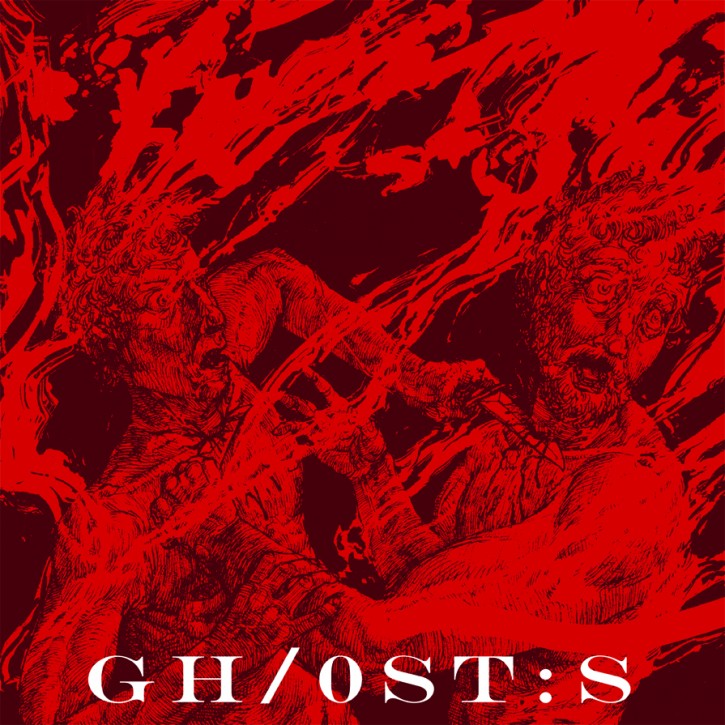 GODHUNTER / SECRETS OF THE SKY – GH/0ST:S Split LP
RAE TILPS 004 – LP / Cassette / Digital
Released in conjunction with GODHUNTER's Battleground Records, GH/0ST:S pairs Tucson's GODHUNTER and Oakland's SECRETS OF THE SKY, with both bands showcasing further experimentation into each of their respective crafts, through forty minutes of material, wotj a crushing opus and a haunting, thematic accompaniment from each. Initially released in a run of 100 cassettes for their Southwest US trek together, following the tour the record saw proper release in a deluxe a 180-gram black/white swirl vinyl edition limited to 300 copies.
ENABLER – La Fin Absolue Du Monde
RAE TILPS 005 – LP / CD / Digital
The acclaimed second full-length release from ENABLER, La Fin Absolue Du Monde was released in conjunction with Creator-Destructor Records in May of 2015, and is yet another of the band's works inspired by filmmaker John Carpenter, in this case in his movie, Cigarette Burns. The album was tracked with Shane Hotchstetler at Howl Street Recordings in Milwaukee (Expire, Northless) and mixed by Steve Austin (Today Is The Day) at his Austin Enterprises, and packs the band's most diverse material to date into a thirty-six minute battering with fourteen tracks. The vinyl version of La Fin Absolue Du Monde was released in two color schemes of 250 copied each — the Creator-Destructor version in a half-and-half Grey/Halloween Orange pattern and The Compound version on grey wax with Black/White/Orange Crush splatter – packed in an uncoated jacket, as well as a six-panel digipak version.
DIE CHOKING – Die Choking
RAE TILPS 006 – 7" / Digital
The self-titled debut from Philadelphia's most explosive band, the hyperthrash/grindcore trio known as DIE CHOKING. Founded by current/ex-members of Total Fucking Destruction, Cop Problem, Burden and more, the band was formed quickly and caught on even faster, with a relentlessly rabid sound and excellent songwriting. Die Choking was recorded by Brutal Truth guitarist Dan O'Hare at his Mark It Zero Studios and mastered by Brad Boatright at AudioSiege, and unloads five point-blank tracks in under six minutes. Following the band's digital release of the EP, the record saw a physical release as the sixth title for The Compound in April 2014, after which they immediately set out to follow it up with their second EP. Black vinyl 7" EP released in a run of 300 copies.
LAE – Break The Clasp
RAE TILPS 007 – 2XLP / CD / Digital
Break The Clasp is the otherworldly debut album from Montreal-based psychedelic post-hardcore outfit, LAE, the band featuring Steve Austin of Today Is The Day on lead vocals. Undergoing a rebirth in 2013 and re-envisioning their works from the late 1990s when the band went on hiatus, the band sought out Austin to produce the record, transplanting an arsenal of gear from his Austin Enterprises in Maine to record in Ablasou's wood shop/warehouse in Montreal. Through acoustic and electric guitars, trumpet, saws, accordion, organs, pianos, electronic gear and more, Break The Clasp was captured in full analog on a vintage Neve Console. Austin became immersed in the recordings, eventually performing lead vocals to the entire album and becoming a full-time member. Mastered at Austin Enterprises and fitted with cover art by Sonny Kay (The VSS, Gold Standard Laboratories label), LAE's Break The Clasp is an indescribable fifty-three minute voyage through unearthly, heartbreaking psychedelic audio artistry. Co-released with Battleground Records, this is The Compound's most ambitious project to date, the album issued in an eco-friendly six-panel digipak and digitally in November of 2014, and nearly one year later on a massive, deluxe double-LP edition, with two slabs of 180-gram vinyl housed in a spot-varnished gatefold with poly-lined black sleeves and more.
DIE CHOKING – II
RAE TILPS 008 – 7" / Digital
Released less than six months after their self-titled debut EP, DIE CHOKING came hammering back with the even more furious follow-up EP, II. Boasting even more lyrical venom and even faster BPM's and a more crust vibe, the band's songwriting stepped up another notch on the release even as it also unloads five songs in less than six minutes as did its predecessor. Again the band enlisted Dan O'Hare (Brutal Truth) for engineering and mixing at Mark It Zero Studios and Brad Boatright at AudioSiege for mastering. Enclosed in the 7" is a document that functions as an actual personal living will, in the theme of the closing track, "Tonsil," the EP itself pressed on blood red wax in a run of 300 copies.
GODHUNTER & AMIGO THE DEVIL Present: The Outer Dark
RAE TILPS 009 – 7" / Digital
The Outer Dark is a collaborative 7" from Tucson's GODHUNTER and Miami's AMIGO THE DEVIL. With an ominous, acoustic, folk/Western musical theme far removed from GODHUNTER's abrasive hardcore/sludge tones, with soloist Danny Kiranos, a.k.a. AMIGO THE DEVIL, handling vocals and Theremin. The A-side's "Weeping Willow" is a fully original, ill-omened ballad from the collective, while the B-side is a bleak rendition of Nirvana's "Something In The Way." The record was recorded in multiple sessions during the Summer of 2014 at Arcane Digital Studios in Chandler, Arizona, and was produced, mixed and mastered by Ryan Butler. The Outer Dark saw release on Valentine's Day 2015 through The Compound and Battleground Records, delivered at 45RPM on a black wax 7" in a one-time run of 300 copies worldwide.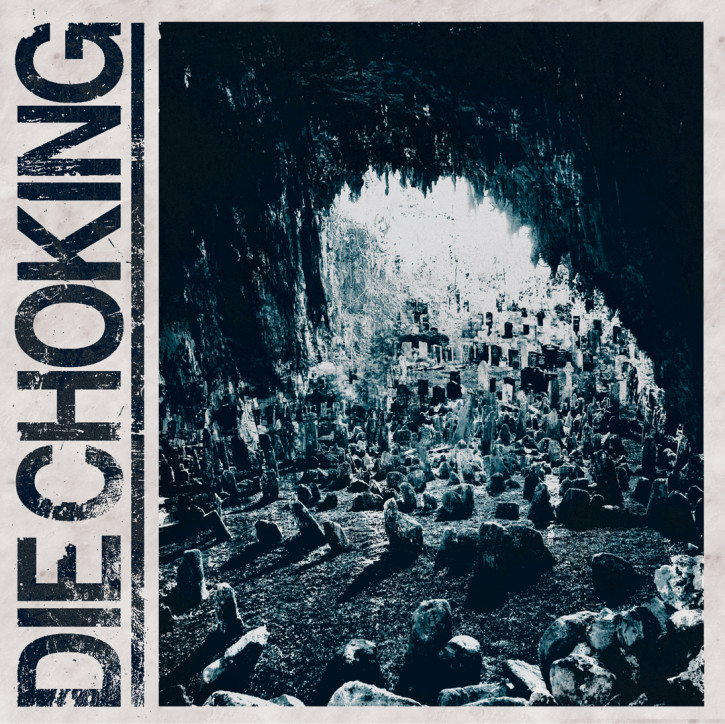 DIE CHOKING – III
RAE TILPS 010 – LP / CD / Digital
The debut LP from Philadelphia's unchained DIE CHOKING, III sees the band delivering seemingly implausible heaviness delivered at an absolutely unstoppable velocity, the eleven tracks delivering even faster BPM-rates and more complicated arrangements than the band's prior releases, and the tracks carrying the enraged socio-political topics as intense as the music itself. All in all, III is one of the heaviest grindcore albums ever conceived; it is an album stripped of overproduction, performed with devastating efficiency, and dripping with a foul aggression that is frequently absent in today's extreme music landscape. III was recorded, engineered, and mixed by Will Yip (Lauryn Hill, Circa Survive, Cop Problem) at Studio 4 and mastered by Brad Boatright at Audiosiege (Baptists, From Ashes Rise, Nails). There are no samples, no triggers. The band simply drilled the takes until they hit it. The vinyl is pressed in a run of 500 copies on 180-gram wax in three crazy blue color variants in juxtaposition with the cover art designed by guitarist Jeffrey V Daniels, and on CD co-released between The Compound and Poland's Selfmadegod Records.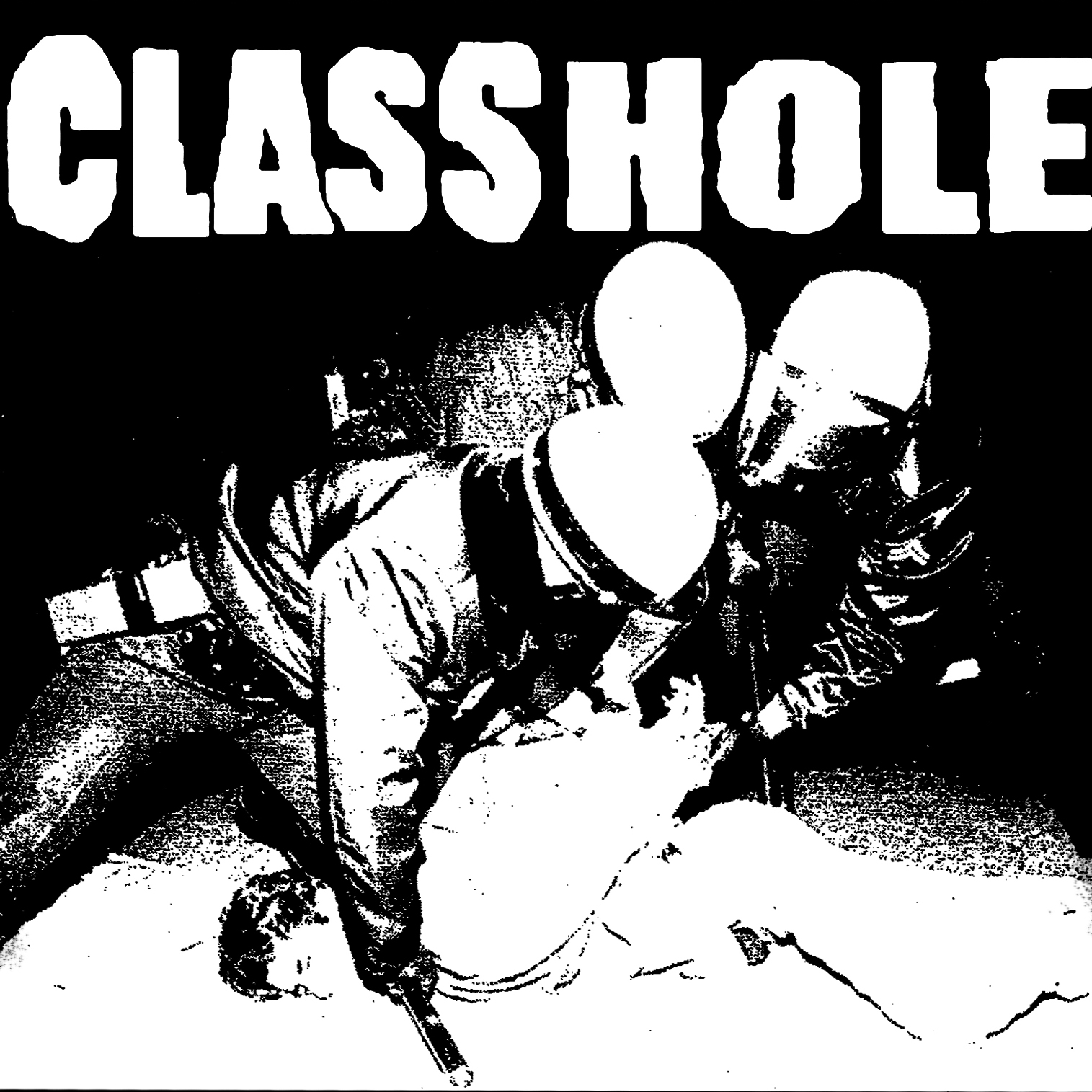 CLASSHOLE – Classhole
RAE TILPS 011 – CD / Digital
The self-titled debut from New Orleans hardcore punk collective CLASSHOLE, the band founded by a varied cast of miscreants hailing from such acts as Eyehategod, Hawg Jaw, Outlaw Order, The Mystick Krewe Of Clearlight, Mountain Of Wizard, Mangina, Tirefire, haarp and more. CLASSHOLE spews forth a venomous and enraged sound which is the product of its surroundings in more ways than one. Following a limited vinyl run as the maiden release for the band's own Terror Cult Records, The Compound then teamed up with the band to deliver Classhole in an eco-friendly digipak version featuring an alternate layout and lyric liner, plus bonus video footage of the band performing five vicious tunes from the record live in NOLA.
GRIDFAILURE – Ensuring The Bloodline Ends Here
RAE TILPS 012 – CD / Digital
The genesis of GRIDFAILURE unexpectedly took place in February of 2016 when solitary member David Brenner (Theologian, ex-Heidnik, Earsplit/The Compound Recs) began to conduct Frankensteinian experimentation on material collected from various recording sessions. The mutated pieces began cannibalizing each other in an uncontrollable downfall; instead of ending the experiment under acres of hard earth immediately, the confused creator dove headlong into the abyss. The debut GRIDFAILURE recordings have converged into a perplexing, exploratory attack on the senses, dubbed Ensuring The Bloodline Ends Here, with eight movements conceived, performed, recorded, produced, and packaged by Brenner, utilizing electric and acoustic guitar/bass, violins, harmonica, keyboards, electronics, chimes, drums, bongos, chains, bells, incineration, bizarre weather systems, tools, and mammals. Layers of unorthodox instrumentation ethereally infested by unhinged waves of unharnessed vocal exploration and punishing rants formulate a biomechanical mistake neither man or nature want to claim.