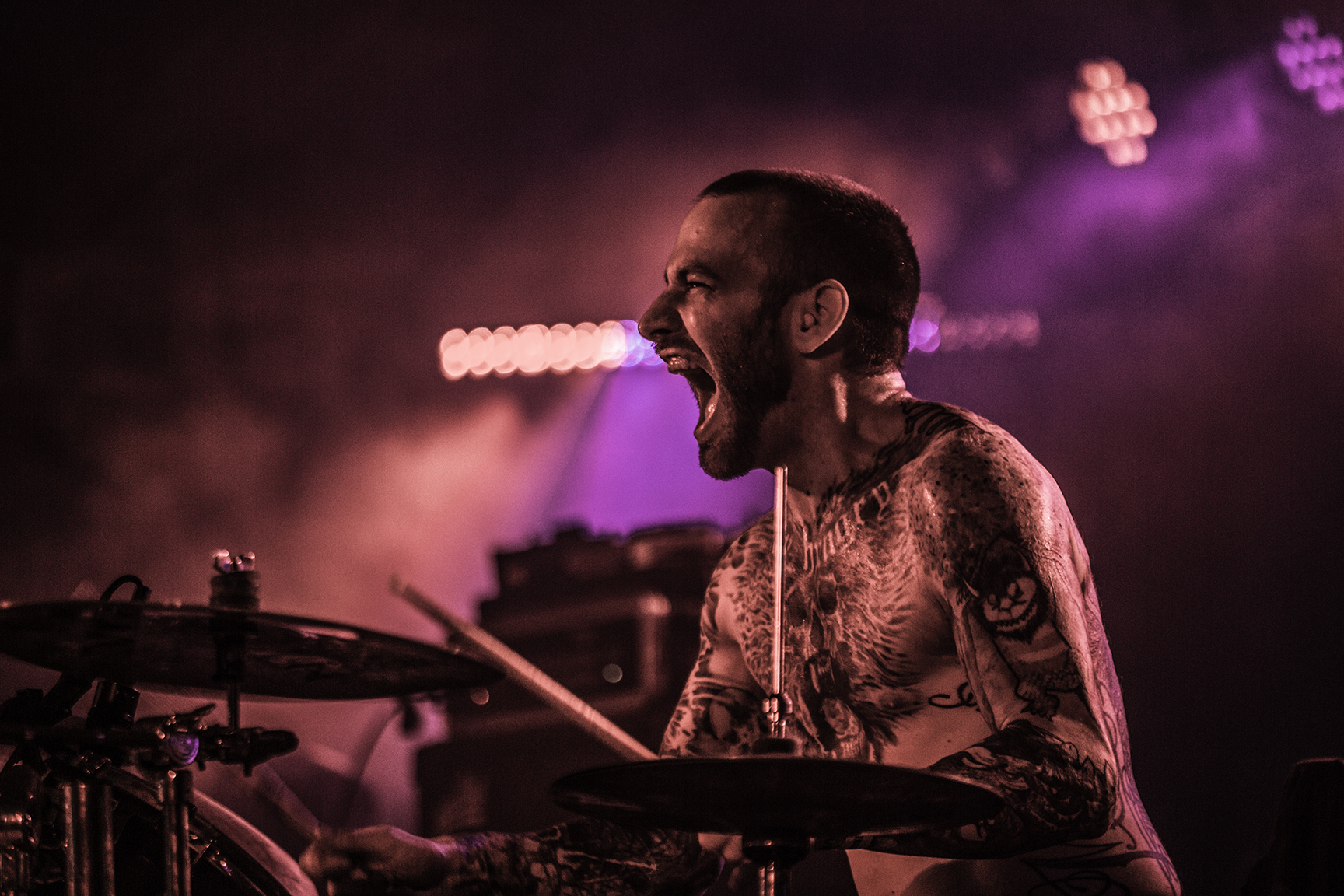 [photo by Sickend Designs]
Philadelphia's DIE CHOKING begins their US tour with Paris-based Department Of Correction this week.
Following DIE CHOKING's first European tour early this year with DOC, the tour will now repeat itself on US shores. DOC will head into the country mid-October to join up with DIE CHOKING for a week-and-a-half of tour dates down the East Coast, beginning the eleven-city run across the East Coast in Allentown on Thursday, October 20th. From there, the bands will blaze through Philadelphia, Brooklyn, Richmond, Raleigh, Charlotte, Columbia, Atlanta, and Jacksonville, before coming to a finale at the massive The Fest 15 in Gainesville, with the likes of Fucking Invincible, Coke Bust, Braid, Night Birds, and dozens more.
One of 2015's most unstoppable albums, DIE CHOKING's III was initially released on limited vinyl through New York City-area-based The Compound Recs. after which it was licensed for release on CD through Poland's Selfmadegod Records.
See DIE CHOKING's recent video for "Dead Figurehead" HERE and stream III in its entirety HERE.
Brand new merch designs and more are available through DIE CHOKING right HERE, vinyl and CDs can be ordered through The Compound HERE, and the CD is available in Europe through Selfmadegod HERE.
Writing for DIE CHOKING's second full-length IV is underway with album pre-production currently happening. Additional info will be released in the weeks ahead.
DIE CHOKING Tour Dates:
10/20/2016 Good Weekend – Allentown, PA w/ Department Of Correction, Buzzherd [info]
10/21/2016 Shred Shed – Philadelphia, PA w/ Department Of Correction [info]
10/22/2016 Silent Barn (ABC No Rio exile show) – Brooklyn, NY w/ Department Of Correction, Pyrrhon, Chepang, Inertia [info]
10/23/2016 Gallery 5 – Richmond, VA w/ Department Of Correction, Burn/Ward [info]
10/24/2016 Riffhouse Pub – Virginia Beach, VA w/ Department Of Correction, Amara [info]
10/25/2016 Slims – Raleigh, NC w/ Department Of Correction, Old Codger [info]
10/26/2016 The Station – Charlotte, NC w/ Department Of Correction, Lesser Life [info]
10/27/2016 New Brookland Tavern – Columbia, SC w/ Department Of Correction, Abacus, Cazador [info]
10/28/2016 529 – Atlanta, GA w/ Department Of Correction, Grinchfinger [info]
10/29/2016 Rain Dogs – Jacksonville, FL w/ Department Of Correction, Shadow Hunter [info]
10/30/2016 The Fest 15 – Gainesville, FL w/ Department Of Correction, Fucking Invincible, Coke Bust, Braid, Night Birds, more [info]
11/10/2016 Kung Fu Necktie – Philadelphia, PA w/ Trap Them, Yautja [info]
1/26/2017 Silent Barn –  Brooklyn, NY @ 1Fest NYC w/ Cloud Rat [info]
1/27/2017 The Vault – Syracuse, NY @ 1Fest Syracuse w/ Cloud Rat [info]
1/28/2017 TBA – Boston, MA @ 1Fest Boston w/ Cloud Rat
5/25-28/2017 Maryland Deathfest 2017 – Baltimore, MD w/ Autopsy, Insect Warefare, Siege, Warmaster, PLF, Iron Lung
http://www.diechoking.com
http://www.facebook.com/diechoking
http://www.diechoking.bandcamp.com
http://www.facebook.com/TheCompoundRecs
http://www.thecompoundrecs.com
http://www.earsplitdistro.com
http://www.thecompound.bandcamp.com