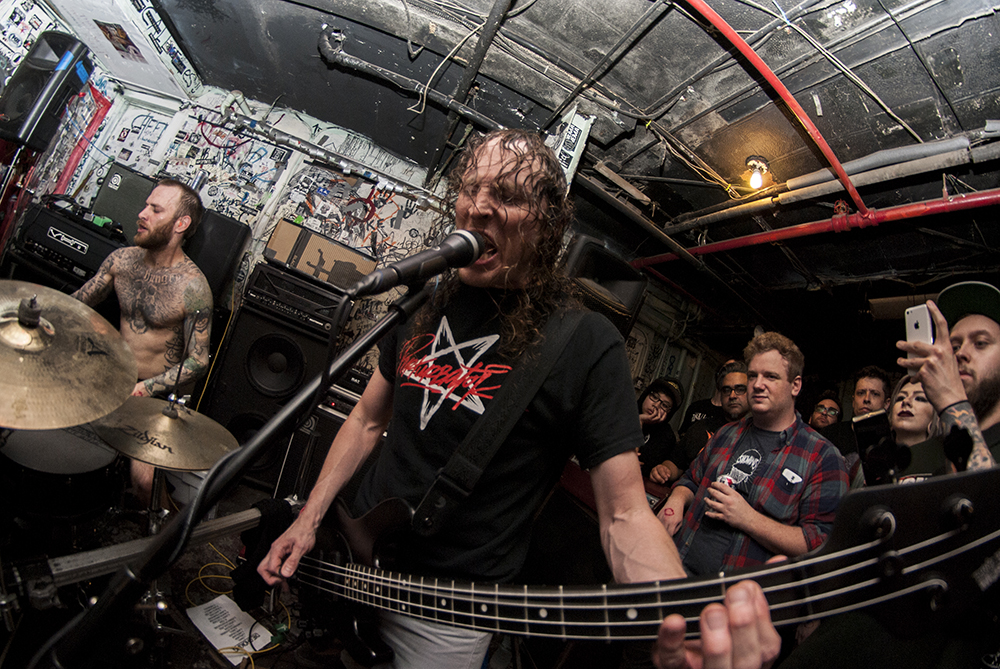 [photo by Paul Buczkowski]
Philly hypergrinders DIE CHOKING will tour their way down the East Coast on their way to Blood Rust Fest II this weekend, with several shows surrounding the gathering.
The DIE CHOKING trio raids Pittsburgh tomorrow, Friday, July 8th, before their trek takes them to Asheville, North Carolina for Blood Rust Fest II, where they'll shred alongside the likes of Torch Runner, Prisoner, Meatwound, and many others during the two-day melee. A show on the way home pits them in Winston-Salem, North Carolina this Sunday, July 10th with Meatwound and others.
DIE CHOKING has also booked other new shows for the Summer and Fall months, with new one-off gigs with Organ Dealer, Noisear, Gadget and others added, and more info and shows added to the band's upcoming US tour with Paris-based allies in Department Of Correction. Further tour updates will be made in the coming weeks. A new music video for the track "Dead Figurehead" is imminent.
DIE CHOKING's unhinged III debut LP is available on limited edition colored wax and CD via The Compound Recs HERE and the band HERE, and digitally via Bandcamp, iTunes, and all other digital outlets.
DIE CHOKING Tour Dates:
7/08/2016 The Shop – Pittsburgh, PA
7/09/2016 Tiny Boat Art Space – Asheville, NC @ Blood Rust II w/ Torch Runner, Prisoner, Meatwound [info]
7/10/2016 Local 506 – Chapel Hill, NC w/ Meatwound, The Mantle, Lesser Life [info]
8/26/2016 The Sanctuary – Detroit, MI
8/27/2016 Full Terror Assault – Cave-In-Rock, IL w/ Rotten Sound, Dying Fetus, Cephalic Carnage, Organ Dealer
8/28/2016 Voodoo Brewery – Meadville, PA w/ Organ Dealer
9/02/2016 Drkmttr – Nashville, TN
9/03/2016 Rotten Fest – Tallahassee, FL
9/04/2016 house show – Savannah, GA
10/09/2016 Pilam – Philadelphia, PA w/ Noisear, Mother Brain, Bea$ters
10/12/2016 Sidebar – Baltimore, MD w/ Gadget
10/20/2016 Good Weekend – Allentown, PA w/ Department Of Correction, Carved Up
10/21/2016 Shred Shed – Philadelphia, PA w/ Department Of Correction
10/22/2016 Silent Barn – New York, NY w/ Department Of Correction, Pyrrhon
10/23/2016 Gallery 5 – Richmond, VA w/ Department Of Correction, Burn/Ward
10/24/2016 Riffhouse Pub – Virginia Beach, VA w/ Department Of Correction, Amara
10/25/2016 Slims – Raleigh, NC w/ Department Of Correction, Old Codger
10/26/2016 The Station – Charlotte, NC w/ Department Of Correction
10/27/2016 New Brookland Tavern – Columbia, SC w/ Department Of Correction
10/28/2016 529 – Atlanta, GA w/ Department Of Correction
10/29/2016 Rain Dogs – Jacksonville, FL w/ Department Of Correction
10/30/2016 The Fest 15 – Gainesville, FL w/ Department Of Correction, Fucking Invincible, Coke Bust, Braid, Night Birds, more
http://www.diechoking.com
http://www.facebook.com/diechoking
http://www.diechoking.bandcamp.com
http://www.facebook.com/TheCompoundRecs
http://www.thecompoundrecs.com
http://www.earsplitdistro.com
http://www.thecompound.bandcamp.com