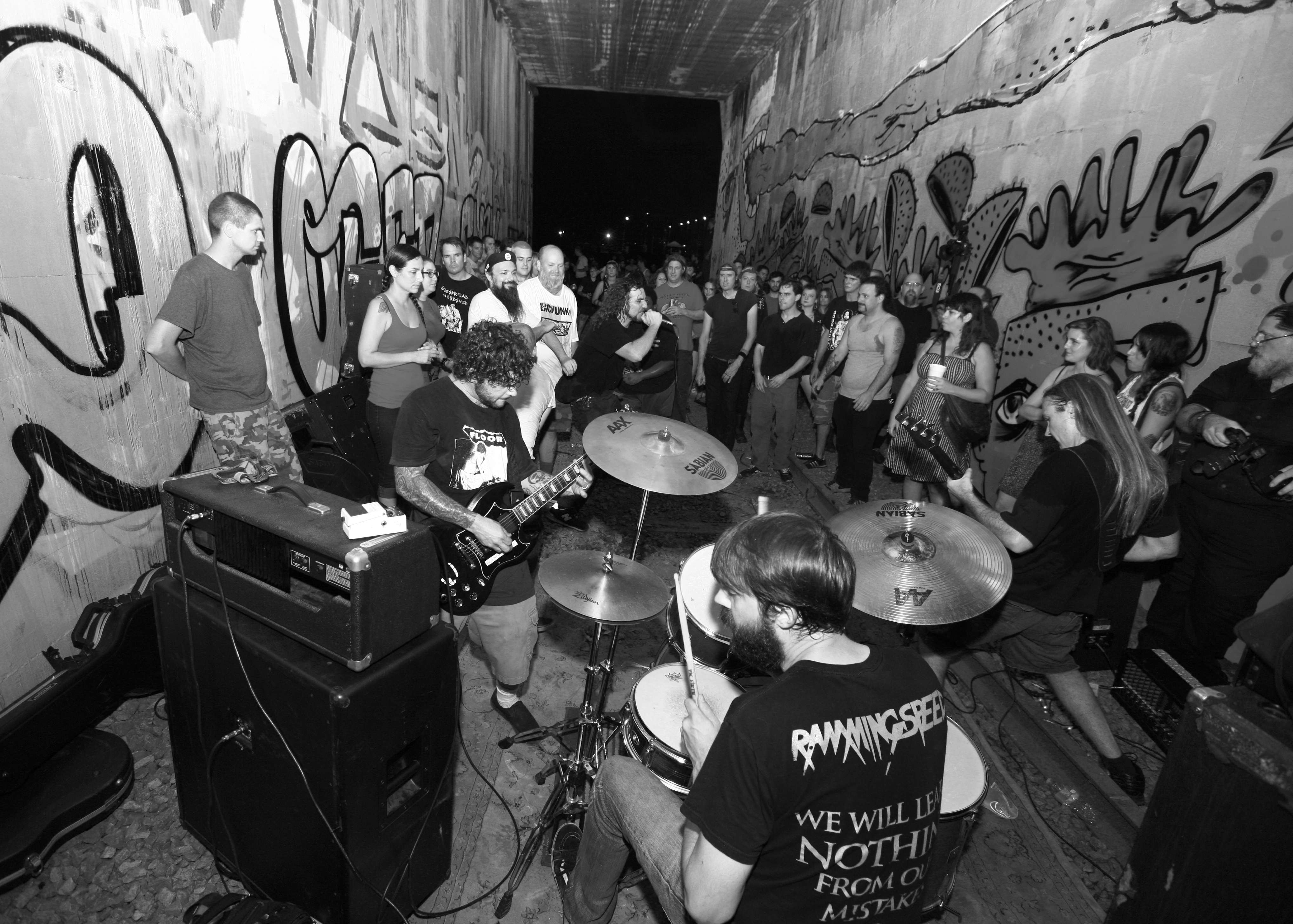 [photo by Gary Loverde]
Boasting a varied cast of amplification assassins hailing from such acts as Eyehategod, Hawg Jaw, Outlaw Order, The Mystick Krewe Of Clearlight, Mountain Of Wizard, Mangina, Tirefire, haarp and more, New Orleans-based hardcore punk malefactors CLASSHOLE today unchain their self-titled debut full-length, just in time to soil the New Year.
Already released in a limited vinyl run as the maiden release for the band's own Terror Cult Records, Classhole now sees a CD release through The Compound Recs in conjunction with Terror Cult, a a four-panel digipak featuring an alternate layout and lyric liner, plus bonus video footage of the band performing live in NOLA.
In an advance review of the record, Rockshockpop.com celebrates, "a half hour of pure, unadulterated anger," furthering, "there's a strong crossover element here, blending punk and hardcore with thrash metal and even doom in a couple of spots…These guys do what they do really well…. This album is fucking awesome," while Razorcake observes, "influences range from early hardcore to later powerviolence, with not a single dud song to speak of. Plus, how can you not love a band named CLASSHOLE? Highly recommended."
In celebration of the record's release, Decibel Magazine is streaming thirteenth cut, "Time's Up" for communal inebriation at THIS LOCATION.
And don't forget to savor the savagery of "Shut You Down," still streaming at Revolver at THIS LOCATION as well as "Bloodshot," "Whole Lot Of Nothing," and "Burning Pain," RIGHT HERE.
CLASSHOLE spews forth a lethal onslaught of combative angst with every belligerent second of the production, the riotous traditions of the members' collective output combined with the diverse New Orleans metal underworld being fueled by societal corruption making for fifteen mutinous tracks of filthy hardcore punk revolt that takes its influence from the raucous likes of Poison Idea, Negative Approach, Discharge without replication.
Classhole is out NOW via The Compound Recs. For physical orders point your browser to THIS LOCATION. Desirers of the digitals, go HERE.
CLASSHOLE:
Matt Muscle – Vocals
Gary Mader – Guitar
Grant Tom – Bass
Paul Webb – Drums
http://www.facebook.com/Classhole
http://www.thecompoundrecs.com
http://www.earsplitdistro.com
http://www.thecompound.bandcamp.com/album/classhole