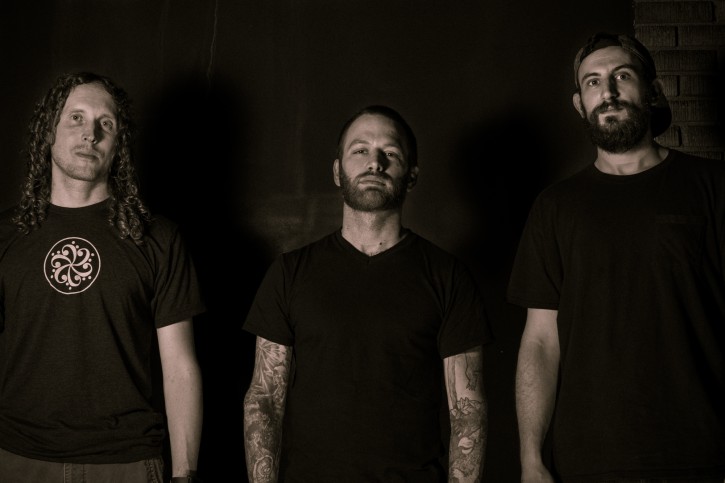 This week, DIE CHOKING embarks on their headlining ten-city tour, beginning with their hometown record release show this week.
The release show for their blazing second EP, II, will see DIE CHOKING joining Pyrrhon, Artificial Brain and Fantasy Panther this Friday, October 17th on their Philadelphia home turf, followed by another solid week of shows in Pennsylvania, Ohio, Wisconsin and Tennessee with Fantasy Panther. DC has two additional shows in Pittsburgh, Pennsylvania and Montclair, New Jersey on their way home after FP drops off following the Knoxville gig. DIE CHOKING will be toting a brand new shirt design from Japanese artist ToK which will be available in special bundles with the new II 7" on this trek.
II is out now on blazing opaque red wax via The Compound and digitally direct through the band. Included in the package is a special document serving as a Living Will created by DIE CHOKING in conjunction with the theme of the EP's closing track, "Tonsil," the Will printed on several random color schemes, including a special version only available on the tour and a mailorder-exclusive version of only thirty copies available via The Compound/Earsplit Distro HERE.
Philly's hyperthrash tyrants, DIE CHOKING returned to Mark It Zero Studios earlier this year, recording II with Dan O'Hare (Brutal Truth) in only one day and the vocals in another, the material then mastered by Brad Boatright at AudioSiege (Baptists, Code Orange Kids, Integrity) and fitted with graphics by Jeffrey V. Daniels. Featuring a former member of Total Fucking Destruction and current members of Cop Problem and Burden, DIE CHOKING's hyperactive grind/thrash resounds with an even darker powerviolence edge than their self-titled EP, fueled with even more speed and vehemence, and the perfect bait to lure in diehard seekers of earthmoving brutality citing Wormrot, Brutal Truth, Human Remains, Magrudergrind and Noisear. Unleash this torrent of savagery via Decibel RIGHT HERE.
DIE CHOKING Live:
10/17/2014 Kung Fu Necktie – Philadelphia, PA *record release show w/ Pyrrhon, Artificial Brain, Fantasy Panther [info]
10/18/2014 The Joke Hole – Glenmoore, PA @ V.O.S. Fest w/ Fantasy Panther, Empty Vessels [info]
10/19/2014 Voodoo Brewery – Meadville, PA w/ Fantasy Panther, Grin & Bear It [info]
10/20/2014 Ottawa Tavern – Toledo, OH w/ Fantasy Panther, Grin & Bear It [info]
10/21/2014 The Foundry – Cleveland, OH w/ Fantasy Panther [info]
10/22/2014 Quarters – Milwaukee, WI w/ Fantasy Panther
10/23/2014 Standard Projects – Hortonville, WI w/ Fantasy Panther [info]
10/24/2014 The Poison Lawn – Knoxville, TN w/ Fantasy Panther
10/25/2014 Rock Room – Pittsburgh, PA w/ No Brainer [info]
10/26/2014 DIV Lounge – Montclair, NJ [info]
11/16/2014 Dishaus – Baltimore, MD w/ Visions Of War, Wrath Cobra, Incisor [info]
http://diechoking.com
http://facebook.com/diechoking
http://diechoking.bandcamp.com
https://www.facebook.com/TheCompoundRecs
http://www.thecompoundrecs.com
http://www.earsplitdistro.com