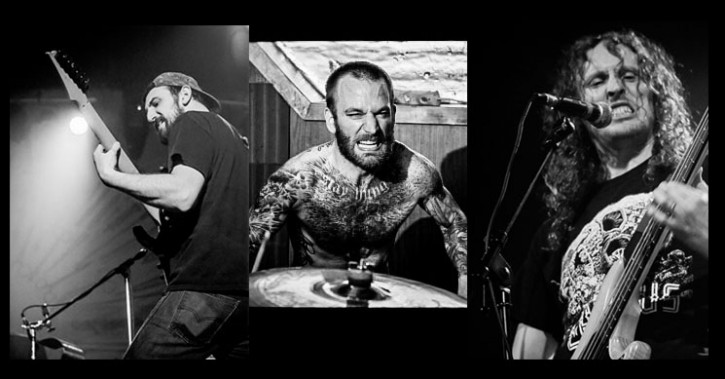 As Philadelphia's hypershred-grinders, DIE CHOKING, prep their second 7" for public infiltration this September, today Noisey breaks off the first chunk off of the EP and rams it into humanity's collective jugular.
"Non-Yielder" leads-off DIE CHOKING's II EP, a song the band created in retaliation to mankind's self-serving, egocentric ways, and a nonflexible outcry to never give up against the suffocating amount of bullshit we're dealt each day. The fifty-one second destroyer features guest vocals by Steve Jansson from Trench Rot/Unrest, and just like its lyrical intent, yields for absolutely nothing.
Unload "Non-Yielder" at Vice Magazine's music joint, Noisey, RIGHT HERE.
DIE CHOKING's hyperactive, earthmoving grind/thrash penetrates with an even darker powerviolence edge on their latest EP, II, discharging five songs in less than six minutes, recorded and mixed at Mark It Zero Studios with Dan O'Hare (Brutal Truth) as with its predecessor. After harnessing the music in one day and all vocals in another the material was mastered by Brad Boatright (Baptists, Code Orange Kids) at AudioSiege. The vinyl version of II will be joined by a document that will function as a real, personal living will, in the theme of the closing track, "Tonsil."
II will see parole on September 29th via The Compound and DIE CHOKING; preorders for the virgin red vinyl 7" can be placed HERE.
With new live actions continually being announced, this Saturday August 16th, DIE CHOKING will take part in Really Awesome Super Fun Fest in Wilmington, Delaware. The band has also locked a hometown record release show for II on October 17th with Pyrrhon, Artificial Brain and Fantasy Panther. This show will begin a week-long DIE CHOKING and Fantasy Panther tour.
DIE CHOKING Live:
8/14/2014 Golden Tea House – Philadelphia, PA
8/16/2014 Really Awesome Super Fun Fest – Wilmington, DE w/ Sete Star Sept, Tercer Mundo, more [info]
10/17/2014 Kung Fu Necktie – Philadelphia, PA *II record release show w/ Pyrrhon, Artificial Brain, Fantasy Panther
10/18/2014 The Wasteland – Kutztown, PA @ V.O.S Fest w/ Fantasy Panther, Unknown To God, Empty Vessels [info]
http://diechoking.com
http://facebook.com/diechoking
http://diechoking.bandcamp.com
https://www.facebook.com/TheCompoundRecs
http://www.thecompoundrecs.com
http://www.earsplitdistro.com