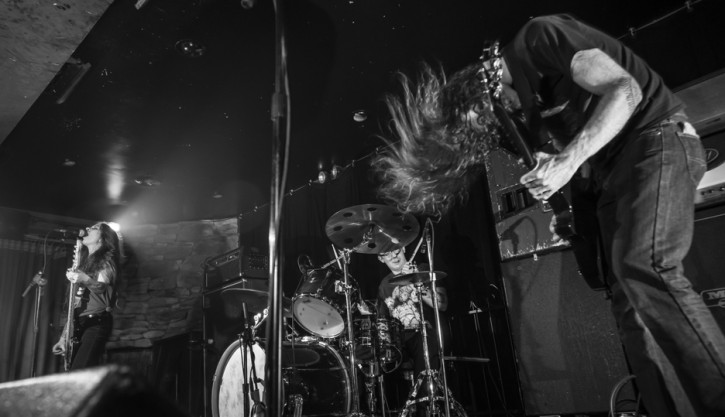 Pitchfork has just posted a stream of "Balance Of Terror," the latest single to hit the streets from ENABLER's impending second LP, La Fin Absolue Du Monde.
Spanning two years since their Southern Lord-released All Hail The Void debut LP, bridged by massive touring on three continents and two killer EPs, La Fin Absolue Du Monde showcases ENABLER delivering their most diverse, downcast anthems yet. Having taken their songwriting to the next level, the stripped-down new lineup executes some new tactics within the fourteen raging tracks, most notably on the newly-unleashed "Balance Of Terror." Laying down an ultra-infectious mid-paced stomp infiltrated by paint-peeling guitar bends and a driving rhythm in a rocked out approach, the song is also the first in the band's rapidly expanding catalog to feature a segment of ghostly, clean vocals from bassist/vocalist Amanda Daniels, a far cry from her usual backing roars.
The track is now playing in the newest installment of Pitchfork's weekly Hell Awaits column, its accompanying write-up in part supplying, "'Balance Of Terror' is the sixth track from the record, and this mid-paced stomper features clean vocals from bassist Amanda Daniels. It's also got a bit of noise-rock influence, no coincidence since Today Is The Day's Steve Austin mastered the record. With all this, 'Terror' hints at anthemic qualities."
Find ENABLER's "Balance Of Terror" at Pitchfork RIGHT HERE.
Lambgoat also recently dropped La Fin Absolue Du Monde's "New Life" HERE, preceded by MetalSucks' unleashing of "Prey" at HERE.
ENABLER just returned from their three-week tour which included a set at the New England Metal & Hardcore Fest alongside labelmates, Cop Problem, in addition to several other shows together, yet in only two weeks the trio takes off on an eastward run of dates including Pouzza Fest in Montreal followed by a set at Maryland Deathfest in Baltimore. Immediately afterward, ENABLER will lay down support for Eyehategod and Ringworm on a bruising, month-long US tour from the end of May through late June, beginning just one day after both ENABLER and Eyehategod release their brand new LPs. Arson Fest, The Fest 13 and tons of additional touring through 2014 is confirmed.
La Fin Absolue Du Monde will see release via The Compound and Creator-Destructor Records on May 27th. Currently in manufacturing at the mighty Pirates Press, the vinyl version will come in two schemes; the Creator-Destructor version in a half-and-half Grey/"Halloween Orange" pattern, and The Compound version on grey wax with heavy Black/White/"Orange Crush" splatter, each in runs of 250 copies in a wide-spine, uncoated jacket with a digital download code included. The CD will be housed with a high-quality, six-panel digipak. Preorders are available via The Compound HERE, via Creator-Destructor HERE, and digital preorders are live HERE.
ENABLER Tour Dates:
5/15/2014 Coach and Horses – Windsor, ON
5/16/2014 Centre-Ville De – Montreal, QC @ Pouzza Fest
5/17/2014 The Central – Toronto, ON
5/18/2014 HvyHouse – Ottawa, ON
5/20/2014 Bar Le Megog – Sherbrooke, QC
5/21/2014 TBA – Burlington, VT
5/22/2014 Geno's Rock Club – Portland, ME
5/23/2014 Even Flow – Bay Shore, NY w/ Maruta
5/25/2014 Baltimore Sound Stage – Baltimore, MD @ Maryland Deathfest
5/27/2014 Longbranch Saloon – Knoxville, TN w/ Ringworm
5/28/2014 Masquerade – Atlanta, GA *
5/29/2014 Drunk Horse – Fayetteville, NC *
5/30/2014 Chop Shop – Charlotte NC *
5/31/2014 611 – Frederick, MD *
6/01/2014 Underground Arts – Philadelphia, PA *
6/02/2014 Rex Theater – Pittsburgh, PA *
6/03/2014 Strange Matter – Richmond, VA *
6/04/2014 American Legion Post 80 – Binghamton, NY *
6/05/2014 Brighton Music Hall – Boston, MA *
6/06/2014 Even Flow – Long Island, NY *
6/07/2014 Europa – Brooklyn, NY *
6/08/2014 Basement Transmissions – Erie, PA *
6/09/2014 Bug Jar – Rochester, NY *
6/10/2014 Loving Touch – Detroit, MI *
6/11/2014 Now That's Class – Cleveland, OH *
6/12/2014 Birdy's – Indianapolis, IN *
6/13/2014 Cobra Lounge – Chicago, IL *
6/14/2014 Pyramid Scheme – Grand Rapids, MI *
6/15/2014 Bottom End Bar – Appleton, WI *
6/16/2014 Triple Rock – Minneapolis, MN *
6/17/2014 Diamond Pub – Louisville, KY *
6/18/2014 Fubar – St. Louis, MO *
6/19/2014 Hi Tone – Memphis, TN *
6/20/2014 Southport – New Orleans, LA *
6/21/2014 Dollhouse – Savannah, GA *
6/22/2014 Orpheum – Tampa, FL *
6/23/2014 Looseys – Gainesville, FL *
6/24/2014 Zydeco – Birmingham, AL
6/25/2014 The Handlebar – Pensacola, FL *
8/08/2014 Arson Fest – Winnipeg, MB
10/31/11/02/2014 The Fest 13 – Gainesville, FL [info]
[* w/ Eyehategod, Ringworm]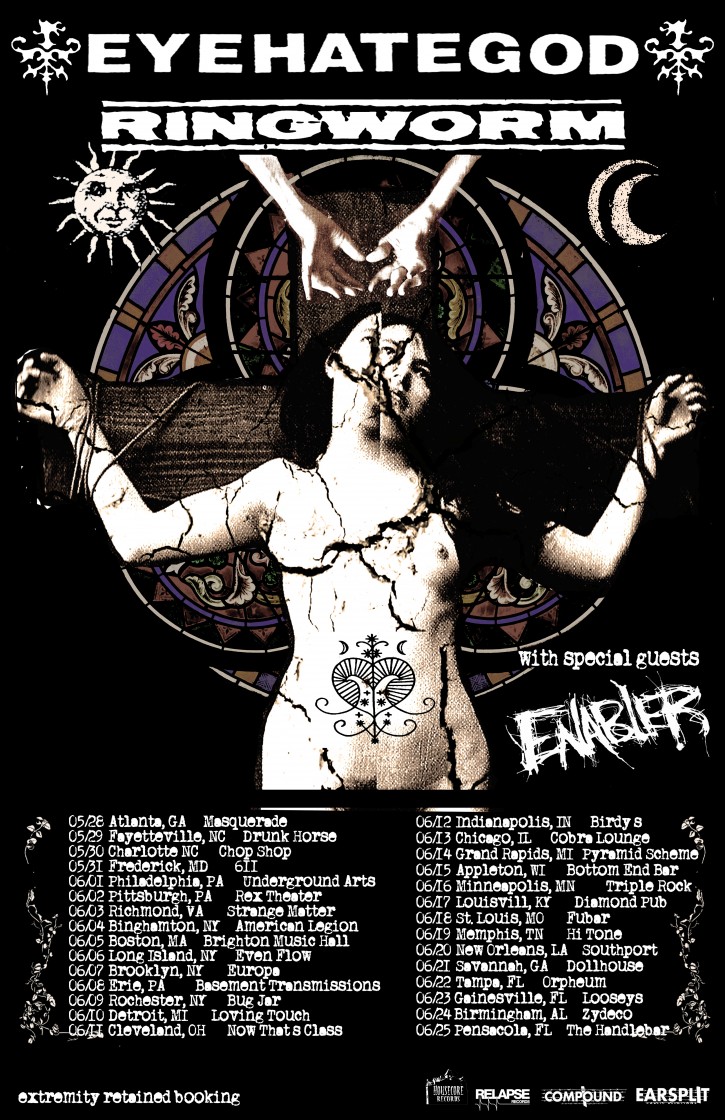 http://enablermke.bandcamp.com
https://www.facebook.com/enablerband
http://www.thecompoundrecs.com
http://www.facebook.com/thecompoundrecs
http://www.earsplitdistro.com
http://creator-destructor.com