South Philly punk/hardcore activists, COP PROBLEM, are becoming an underground powerhouse, through the releasing of prime material, diehard DIY touring, and their willingness to support socio-political and environmental causes and animal rights. On their second 7" EP, Buried Beneath White Noise, the band's four new tracks devastate with the dueling thunder of guitarist Randon Martin and bassist George G, packed with white-knuckled percussive rolls and torrential d-beatings from drummer Joshua Cohen (Die Choking), all topped with a searing torrent of vocals from frontwoman Deb Cohen's disparaging delivery, raging in the vein of Cloud Rat, Oathbreaker and All Pigs Must Die, and engineered by Will Yip (Paint It Black, Circa Survive, Balance & Composure).
Having seen digital release by COP PROBLEM in the Fall of 2013, the physical manifestation of this beast is now upon us, as the band joins with THE COMPOUND to release a killer 7" version of Buried Beneath White Noise on US turf, with British DIY label, Prejudice Me, handling European territories. The platters are at the plant and will be delivered in just over a week, in a deuce of color schemes. Not only will the planned black wax pressing of 300 copies exist, but an additional pressing of 200 copies of an experimental new color pattern is being put into production for a special pressing only COP PROBLEM and THE COMPOUND will be selling; the pressing melding a translucent dark green with Coke-bottle clear which the pressing plant has never done. Preorders for both the standard black and the "green thing" are available now via EARSPLIT DISTRO.
While COP PROBLEM stays quite active on the tour front on their own, the coming weeks will see them hit the road for a killer run with now-labelmates, Enabler. While COP PROBLEM and Enabler have randomly shared the stage previously, this upcoming tour is the first official excursion the two will embark on together, and both with new releases out on THE COMPOUND. COP PROBLEM will unite with Enabler's then-ongoing tour to perform the opening night of this year's New England Metal & Hardcore Festival in Worcester, Massachusetts on Thursday, April 17th, both bands joining All That Remains, Bleeding Through, Broken Hope, Darkest Hour, Emmure, Fallujah, Kublai Khan, Rivers of Nihil and more that evening. From there the two acts will crush through Lowell, Brooklyn, Rockaway and Philadelphia together before Enabler splits loose to continue back to the Midwest.
COP PROBLEM Tour Dates:
4/17/2014 The Palladium – Worcester, MA @ New England Metal & Hardcore Fest w/ Enabler
4/18/2014 The Worthen – Lowell, MA w/ Enabler, Matahari, Los Bungalitos
4/19/2014 Grand Victory – Brooklyn, NY w/ Enabler, Go Deep, Agitator
4/20/2014 Backroom Studios – Rockaway, NJ w/ Enabler, Ides, Hell Mary, Iron Born, Grit
4/21/2014 Kung Fu Necktie – Philadelphia, PA w/ Enabler, Outer Heaven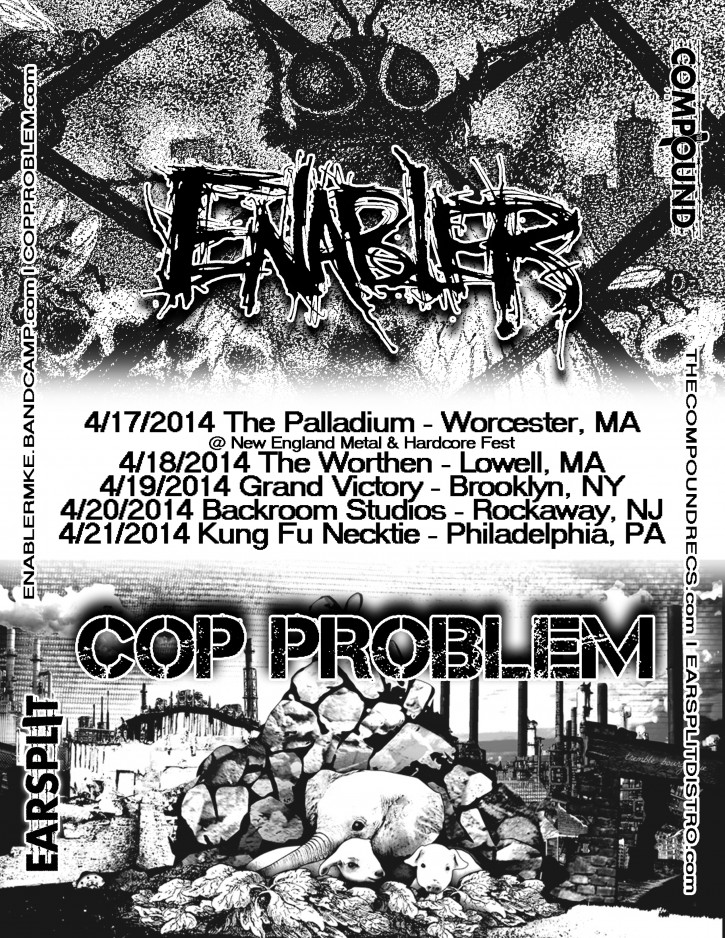 http://www.copproblem.com
http://music.copproblem.com
https://www.facebook.com/CopProblem
https://www.facebook.com/TheCompoundRecs
http://www.thecompoundrecs.com
http://www.earsplitdistro.com