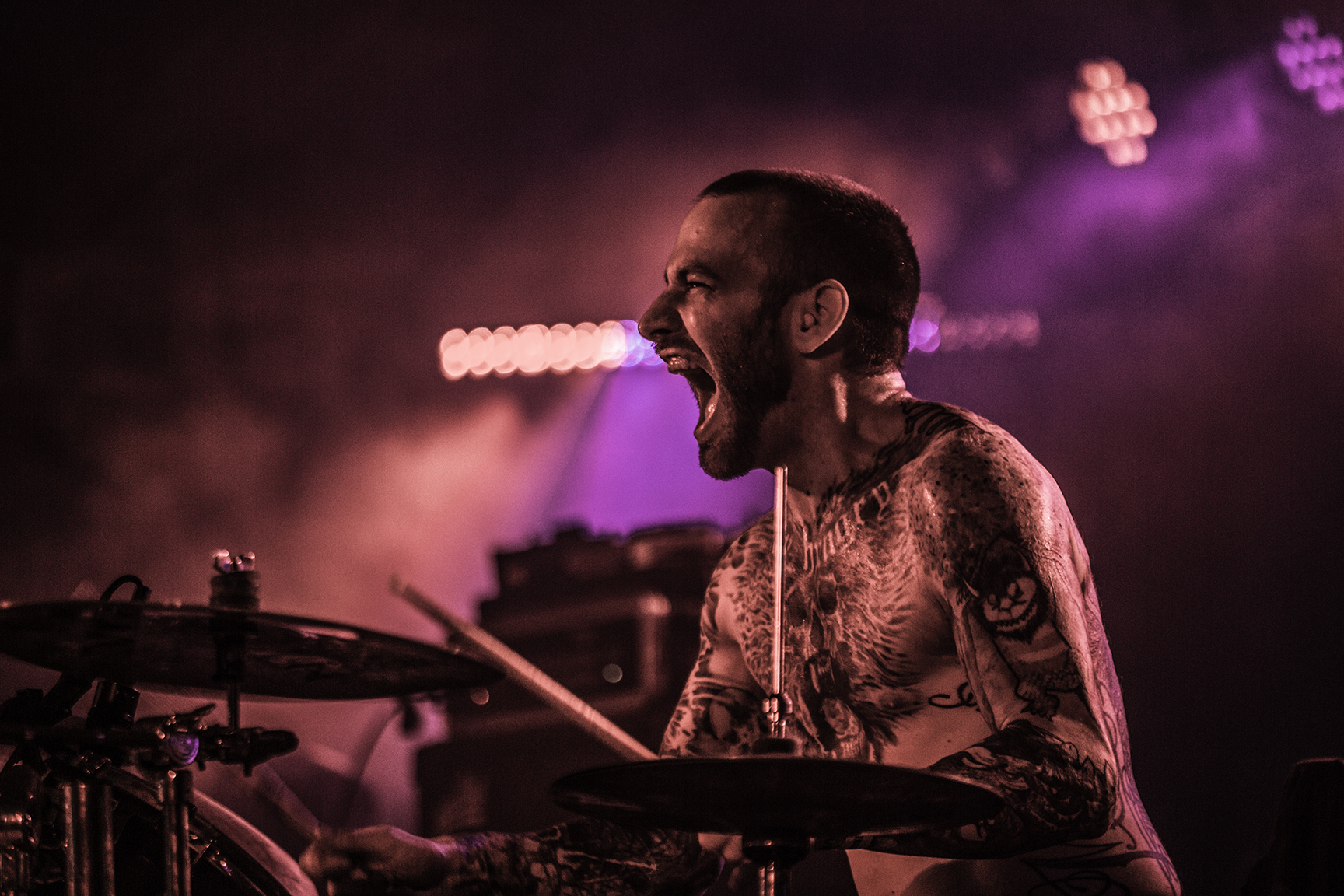 [photo by Sickend Designs]
Philadelphia's unhinged grind squad DIE CHOKING has just issued the first official video from their lauded and unstoppable III LP through an exclusive premiere at Clrvynt, and as always, announces another round of upcoming live actions.
The rapid visual deployment for "Dead Figurehead" is as intense and warped as DIE CHOKING's auditory explosiveness on the track. A whirlwind of international leaders and political propaganda is delivered through a white-knuckled ride through a world of radical dementia, the video directed by Mitchell Luna (Maruta, Noisear) and Josh Mahesh (Heikousen, Fraud).
DIE CHOKING issues, "'Dead Figurehead' is a fuck-off to intolerance and pushes against the rising neo-fascism we are seeing in the US right now. There is a transparency and widespread popular criticism of American politics that we haven't really seen since the 1960's. The current candidacy has been an eye-opening mirror for Americans. In the end, it seems elected politicians are frequently not the leaders we want or need. Unfortunately, they may be the leaders we deserve."
Heavy music portal Clrvynt has hosted the premiere of the new "Dead Figurehead" video, stating, "Despite the ample gross-outs, DIE CHOKING's latest video isn't about shock value — it's about waking the hell up and smelling the sweet, rancid fumes emanating from our collective dumpster fire, which grows stronger by the day."
See DIE CHOKING's "Dead Figurehead" at Clrvynt RIGHT HERE.
Following DIE CHOKING's first European tour early this year alongside Paris-based Department Of Correction, the tour will now repeat itself on US shores. DOC will head into the country mid-October to join up with DIE CHOKING for a week-and-a-half of tour dates down the East Coast, which comes to a finale at the massive The Fest 15 in Gainesville, Florida with the likes of Fucking Invincible, Coke Bust, Braid, Night Birds, and dozens more. The tour is surrounded by and includes a rash of shows with the likes of Noisear, Gadget, Pyrrhon, Trap Them, Yautja, Cloud Rat, and many others. DIE CHOKING will also take part in the multi-state 1Fest in January, including successive shows with Cloud Rat in New York City, Syracuse, and Boston. The band has also been confirmed for Maryland Deathfest 2017, set to appear with the likes of Autopsy, Insect Warefare, Siege, Warmaster, PLF, Iron Lung, and more.
One of 2015's most unstoppable albums, DIE CHOKING's III was initially released on limited vinyl through New York City-area-based The Compound Recs. after which it was licensed for release on CD through Poland's Selfmadegod Records. Brand new merch designs and more are available through DIE CHOKING right HERE, vinyl and CDs can be ordered through The Compound HERE, and the CD is available in Europe through Selfmadegod HERE.
Writing for DIE CHOKING's second full-length IV is underway with album pre-production currently happening. Additional info will be released in the weeks ahead.
DIE CHOKING Tour Dates:
10/09/2016 Pi lam – Philadelphia, PA w/ Noisear, Mother Brain, Bea$ters [info]
10/12/2016 Sidebar – Baltimore, MD w/ Gadget, Vermin Womb [info]
10/20/2016 Good Weekend – Allentown, PA w/ Department Of Correction, Buzzherd [info]
10/21/2016 Shred Shed – Philadelphia, PA w/ Department Of Correction [info]
10/22/2016 Silent Barn (Abc No Rio exile show)– Brooklyn, NY w/ Department Of Correction, Pyrrhon, Chepang, Inertia [info]
10/23/2016 Gallery 5 – Richmond, VA w/ Department Of Correction, Burn/Ward [info]
10/24/2016 Riffhouse Pub – Virginia Beach, VA w/ Department Of Correction, Amara [info]
10/25/2016 Slims – Raleigh, NC w/ Department Of Correction, Old Codger [info]
10/26/2016 The Station – Charlotte, NC w/ Department Of Correction, Lesser Life [info]
10/27/2016 New Brookland Tavern – Columbia, SC w/ Department Of Correction, Abacus, Cazador [info]
10/28/2016 529 – Atlanta, GA w/ Department Of Correction, Grinchfinger [info]
10/29/2016 Rain Dogs – Jacksonville, FL w/ Department Of Correction, Shadow Hunter [info]
10/30/2016 The Fest 15 – Gainesville, FL w/ Department Of Correction, Fucking Invincible, Coke Bust, Braid, Night Birds, more [info]
11/10/2016 – Kung Fu Necktie – Philadelphia, PA w/ Trap Them, Yautja [info]
1/26/2017 1Fest NYC – Aviv NYC, NY w/ Cloud Rat [info]
1/27/2017 1Fest Syracuse – The Vault Syracuse, NY w/ Cloud Rat [info]
1/28/2017 1Fest Boston – Boston, MA w/ Cloud Rat
5/25-28/2017 Maryland Deathfest 2017 – Baltimore, MD w/ Autopsy, Insect Warefare, Siege, Warmaster, PLF, Iron Lung
http://www.diechoking.com
http://www.facebook.com/diechoking
http://www.diechoking.bandcamp.com
http://www.facebook.com/TheCompoundRecs
http://www.thecompoundrecs.com
http://www.earsplitdistro.com
http://www.thecompound.bandcamp.com