[photo by Brendan Fieldhouse]
In the smoldering wake of their III LP's release through The Compound Recs, and widespread US tour actions, Philly hypergrinders DIE CHOKING are ready to hit the East Coast with two bursts of tour dates in preparation for their first European tour in February.
DIE CHOKING will take part in this year's 305 Fest in Miami, Florida on December 12th, performing alongside the likes of D.R.I., Noisear, Lower Class Brats and many others, the show preceded by a gig in Asheville on the way down and Tallahassee after the fest, completing a three-day raid of the Southeast Coast. January sees the band headed north, with a pair of upstate New York shows in Syracuse and Ithaca with Sulaco on January 8th and 9th.
February will take DIE CHOKING to Europe for the very first time for a two-week tour with France's Department Of Correction. Grind Is The New Black is set to run from February 12th through 27th, the tour heavily concentrated on the UK and France, and includes a set at the first DeathFist Fest in Nantes. The final few shows will be finalized in the next few days, but the rest of the routing has been revealed.
Additional DIE CHOKING tour dates with Pyrrhon, Organ Dealer and more are also in the works for the Spring of 2016.
Recorded with producer Will Yip at Studio 4 (Lauryn Hill, Circa Survive, Title Fight) and mastered by Brad Boatright (Nails, Integrity, Full Of Hell) at Audiosiege, DIE CHOKING's III unloads faster BPM's than you'll endure anywhere in the punk/metal world this year, with more grindcore/crust punk wrath than ever surging through the eleven brand new tracks. The 100-copy limited pressing of III exclusive to The Compound / Earsplit Distro mailorder in an A Side/B Side black-base Blue Splatter is available HERE, and the Blues Of The Mighty Haze and Blue & Bone Splatter Milky Clear pressings available through DIE CHOKING right HERE. A CD version will see co-release between The Compound Recs and Selfmadegod Records in early 2016.
Check out a new PureGrainAudio Geared Up feature on DIE CHOKING guitarist Jeffrey V. Daniels' custom Ibanez Universe 7-string guitar HERE, and stream all of III HERE.
DIE CHOKING III Tour Dates:
12/11/2015 Das Püüphaus – Asheville, NC w/ Hellevator, Swamp Rot, Monday's [info]
12/12/2015 Churchills – Miami, FL @ 305 Fest w/ DRI, Noisear, Lower Class Brats, LYSP [info]
12/13/2015 Midtown Speakeasy – Tallahassee, FL [info]
1/08/2015 Funk n' Waffles – Syracuse, NY w/ Sulaco [info]
1/09/2016 Chanti-Loft – Ithaca, NY w Twin Lords, Sulaco
2/12/2016 Le Buzz – Paris, FR w/ Department Of Correction
2/13/2016 Bar Live – Roubaix, FR w/ Department Of Correction
2/14/2016 Unicorn – London, UK w/ Department Of Correction
2/15/2016 Red Lion – Bristol, UK w/ Department Of Correction
2/16/2016 Northumberland – Newcastle, UK w/ Department Of Correction
2/17/2016 The Adelphi – Preston, UK w/ Department Of Correction
2/18/2016 The Green Door Store – Brighton, UK w/ Department Of Correction
2/19/2016 DeathFist Fest – Nantes, FR w/ Department Of Correction [info]
2/20/2016 TBA w/ Department Of Correction
2/21/2016 TBA w/ Department Of Correction
2/22/2016 TBA w/ Department Of Correction
2/23/2016 TBA w/ Department Of Correction
2/24/2016 Sanitätstelle – Chemnitz, FR w/ Department Of Correction
2/25/2016 Epplehaus – Tübingen, DE w/ Department Of Correction
2/26/20156 Cafete – Bern, CH w/ Department Of Correction
2/27/2016 Black Box – Saint Dizier, FR w/ Department Of Correction
"…DIE CHOKING is the energetic, Hellenistic philosophy-obsessed future of grind." – Decibel
"The album is an incredible melding of the punkest side of Phobia with incredible assault of a Brutal Truth album. III is an insane full length debut from an already incredibly destructive grind force." – Metal Injection
"…DIE CHOKING serves in part as a venue for its musicians to push their abilities to the limits, and these tracks are indeed withering workouts… DIE CHOKING channels the intensity with a subtle songwriting intelligence that begins to emerge after the initial shock of their impact wears off." – Stereogum
"If you've ever wanted to experience the sensation of self-flagellating your ears, but without the inconvenience of using an actual whip, Philly grind freaks DIE CHOKING may be just the band you've been waiting for… socio-politically conscious, anti-authoritarian punk/metal played at tempos that come close to breaking the sound barrier." – Noisey
"DIE CHOKING has improved with each successive release, and III does an excellent job of marrying grindcore's inherent intensity to some first-rate riffs to create an album as enjoyable as it is explosive." – Last Rites
"…it just fucking tramples over everything in a nasty and efficient way… If capitalism is anathema to you, and a sentence like 'the government is cool with cops shooting dogs, and two year olds' resonates with a really dark angry part of your soul, then you may like DIE CHOKING." – New Noise Magazine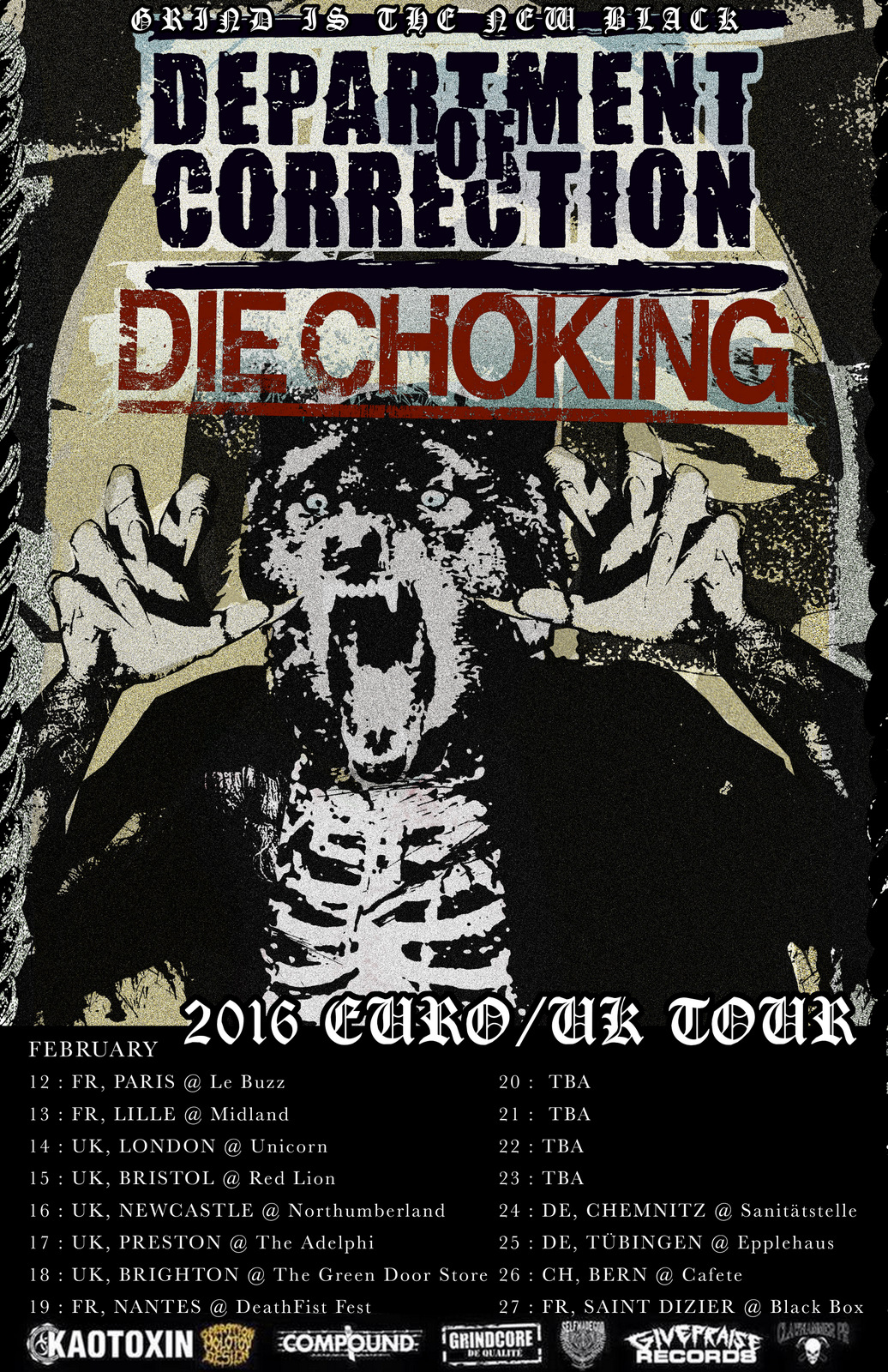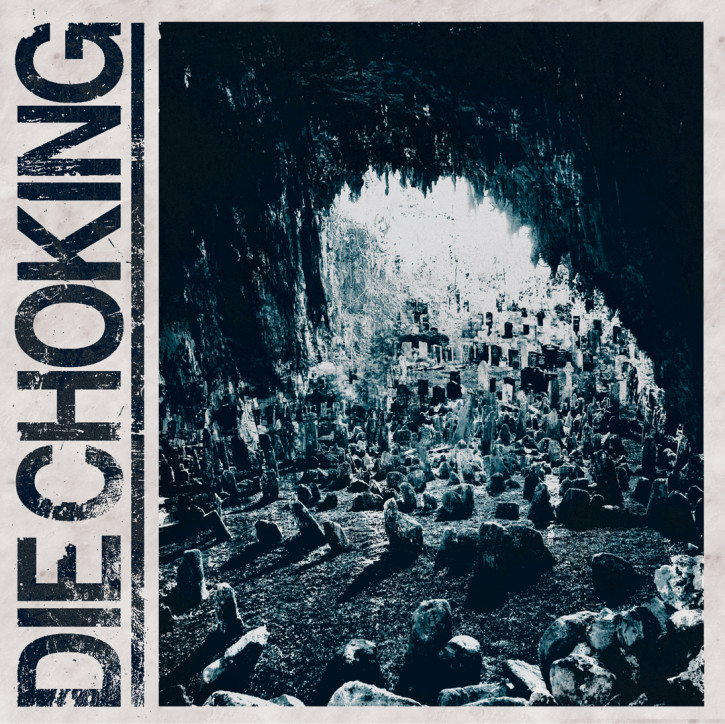 http://www.diechoking.com
http://www.facebook.com/diechoking
http://www.diechoking.bandcamp.com
http://www.facebook.com/TheCompoundRecs
http://www.thecompoundrecs.com
http://www.earsplitdistro.com
http://www.thecompound.bandcamp.com