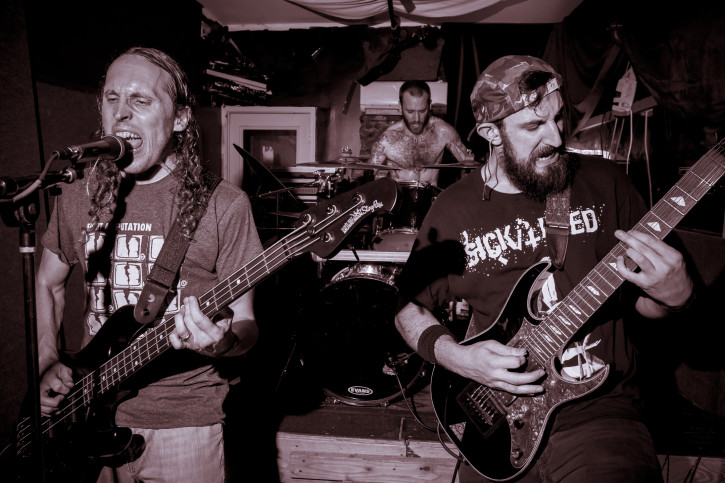 [photo by Dante Torrieri]
Philadelphia's uncompromising hyperthrash/grindcore trio, DIE CHOKING, will digitally deploy their debut full-length this week in the form of III, via The Compound Recs, with the vinyl to see release in two weeks. With the initial release now just days away, Stereogum lets the beast off the chain early with an exclusive stream of the entire album.
DIE CHOKING's III picks up where their prior self-titled and II 7" EP's left off, unloading the band's incredibly harsh views on humankind's treacherous ways with even more intense levels of scathing and cynical wrath through eleven brand new tracks. Recorded with producer Will Yip at the renowned Studio 4 (Lauryn Hill, Blacklisted, Cop Problem) with and mastered by Brad Boatright (Nails, Integrity, Full Of Hell) at Audiosiege. Stripped of overproduction and performed with devastating efficiency, with no samples or triggers utilized in the recording and mixing process, the record captures a concentrated dose of the densest grindcore ever created and one of 2015's most extreme recordings.
While dispersing the album into worldwide mainstream audiences, Stereogum issues alongside their exclusive, early stream of the album, "…III's not all flying spittle and popping veins. DIE CHOKING channels the intensity with a subtle songwriting intelligence that begins to emerge after the initial shock of their impact wears off. While none of these sub-2-minute rippers approaches the kind of melodicism that Gridlink or Beaten To Death traffic in, each breathes just enough to sustain a life of its own within the album's harsh ecosystem. The wealth of key riffs doesn't hurt, either."
Stream DIE CHOKING's entire III LP through Stereogum now at THIS LOCATION.
III will see digital release this Thursday, October 8th, followed by a deluxe vinyl version on October 23rd. A 100-copy limited pressing exclusive to The Compound Recs in an A Side/B Side black-base Two-Blue Splatter is available HERE, and the Blues Of The Mighty Haze and Blue & Bone Splatter Milky Clear pressings available through DIE CHOKING right HERE. A CD version will see co-release between Polish extreme propaganda specialists, Selfmadegod Records and The Compound at the turn of the year for the band's first European tour in February.
Having just returned home from their Escape The Pope Tour through the Northeast US, DIE CHOKING is preparing for their next massive tour offensive, as several runs of touring in support of III are rapidly approaching. Beginning October 22nd — one day after the vinyl is released — DIE CHOKING will return to the Midwest on their way out to their first ever West Coast tour dates before touring back across the country. The rampage continues afterward, with multiple record release shows, a spot at the fourth South Jersey Metal Fest and more, along the way performing with the likes of Mother Brain, Grin & Bear It, Carved Up, Rivers Of Nihil, Surgeon and more.
DIE CHOKING III Tour Dates:
10/22/2015 Bremen Café – Milwaukee, WI w/ No Brainer, Rifle Diet, Plague, Ablation [info]
10/23/2015 Hexagon – Minneapolis, MN w/ Deterioration, Daigoro, Invidiosus [info]
10/24/2015 The Mutiny – Denver, CO w/ Rotstrotter, 908 [info]
10/25/2015 The Shredder – Boise, ID [info]
10/26/2015 VFW – Missoula, MT w/ No Brainer, Got Grunt, Dead Beats
10/27/2015 The Foggy Notion – Portland, OR w/ Akira, Scoulor [info]
10/28/2015 Burnt Ramen – Richmond, CA w/ Concussive, Cease
10/29/2015 Perez – Los Angeles, CA w/ LxDxT, Facelift, Putasos, Terror Cult [info]
10/30/2015 House Show – Salt Lake City, UT w/ Worry, Tourcher Porn
10/31/2015 Penn Valley Skatepark – Kansas City, MO w/ Blind Dog [info]
11/01/2015 Mr. Roboto Project – Pittsburgh, PA w/ Slaves BC, Mere Phantoms, Gothmog [info]
11/07/2015 Boot n' Saddle – Philadelphia, PA *record release w/ Mother Brain, Grin & Bear It, Surgeon [info]
11/13/2015 The Burners – Bethlehem, PA *record release show w/ Carved Up, Jesus Piece [info]
11/14/2015 Voodoo Brewery – Meadville, PA w/ Carved Up
11/15/2015 Saint Vitus Bar – Brooklyn, NY *record release w/ Carved Up, Spotlights, Godmaker [info]
12/05/2015 ICAC Hall – Gloucester City, NJ @ South Jersey Metal Fest 4 w/ Rivers of Nihil, Corpse Horder, more [info]
1/08/2015 Funk n' Waffles – Syracuse, NY w/ Sulaco
Vice Magazine's music channel Noisey notes how DIE CHOKING, "has grown a big reputation in short time for its unrelenting, caustic brand of socio-politically conscious, anti-authoritarian punk/metal played at tempos that come close to breaking the sound barrier, issuing of their debut LP, "III contains the band's most confrontational, intense, and crust-fueled sounds yet while exploring heady philosophical concepts." Bloody Disgusting praised the devastation of the album's, "pure sensory assault, featuring blistering drums, raging vocals, and a wall of distorted guitars, all combining to ensure maximum face melting power." Decibel Magazine bluntly issues, "Philadelphia's own DIE CHOKING are prepared to grind you into oblivion with debut full-length III," and Cvlt Nation exclaims, "There is nothing soft about the upcoming DIE CHOKING release III. An all out brutality fest will take place in your brain once you hear this album! From the very first to the last moment of this album, this band wants to punish, and they do a pummeling job of just that!"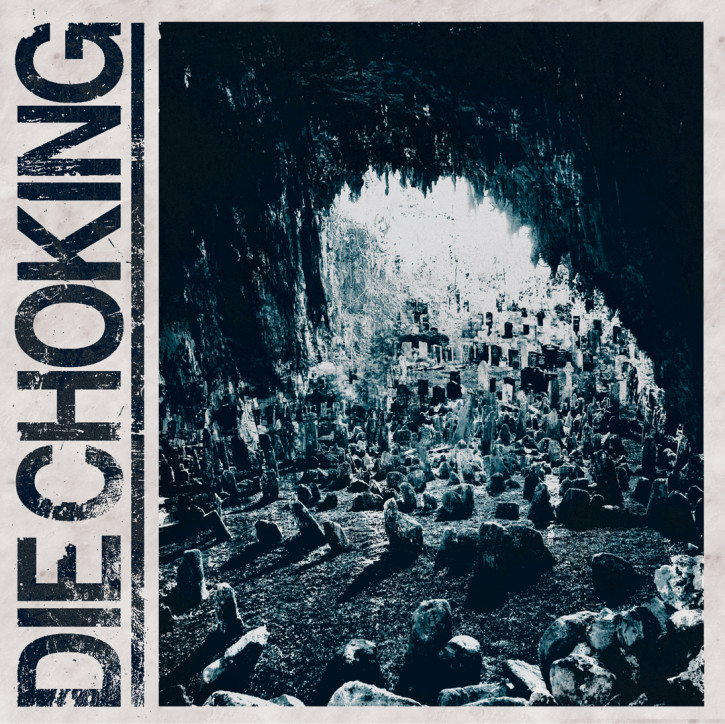 http://www.diechoking.com
http://www.facebook.com/diechoking
http://www.diechoking.bandcamp.com
http://www.facebook.com/TheCompoundRecs
http://www.thecompoundrecs.com
http://www.earsplitdistro.com
http://www.thecompound.bandcamp.com