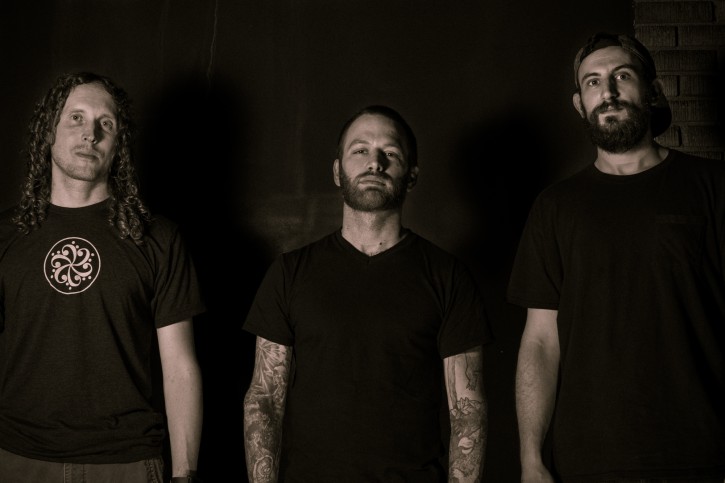 Through an exclusive Metal Injection premiere, Philadelphia-based DIE CHOKING has just released their first official video created for "Tonsil," the closing track on the trio's newest EP, II. "Tonsil" is a brutal testimonial for human rights, standing up for an individual's option to die when in a critical or vegetative state, rather than be kept alive in an unsatisfactory manner by family members. In direct action coinciding with this very personal stance on the matter, the band manufactured a physical document which serves as a legal will to officiate one's final wishes.
"This song is a dedication to the memory of Jahi McMath who died on December 12th 2013," issues founding bassist/vocalist Paul Herzog (ex-Total Fucking Destruction). "Despite the absolute, irreversible nature of brain death she (as far as I know) remains on 'life' support. The controversy of this is obvious but my interest is geared more towards the broader subject of CHOICE in regards to medical treatment during end of life scenarios… I love fantasy, horror, and sci-fi just like the next guy. For DIE CHOKING, as an outlet for me, I don't want to create fiction or fantasy… I want to help and advocate. The subject in 'Tonsil' is universal and transcends politics, it is about the reality and potential severity of the death and dying process. This process, although, can be grounded in peace and serenity. It is often centered on resistance, aggression and a frequently indecisive routine of extensive medical and surgical processes. If I can help someone handle and make the important decisions that need to be made then I can feel like I am doing some good in a very sick world."
However, the video for "Tonsil," directed by Matt Weikel, is much more direct in its gritty approach, capturing the trio smashing the song into obliteration with all of the high-speed intensity it delivers in a live setting. "Our guitarist Jeff Daniels (Burden) lives at something of an artist commune in Philly," offers DIE CHOKING drummer Joshua Cohen (also of Cop Problem). "His roomies are all talented Philadelphians, including members of Fight Amp, and Matt Weikel, who is a rad videographer. Weikel just rolled over to our practice spot in South Philly for a couple quick shoots and that was that. We all like the old-school music videos that just showed bands rippin' it… Some dark imagery and solid editing and Matt delivered perfectly."
Experience DIE CHOKING's "Tonsil" for yourself firsthand at Metal Injection RIGHT HERE.
Released in September by The Compound, with five explosive new songs in less than six minutes, II shows DIE CHOKING swarming with enraged and psychotic songwriting, and more of an ominous powerviolence approach from their self-titled debut EP. As with its predecessor, the new 7" was recorded and mixed at Mark It Zero Studios with Dan O'Hare (Brutal Truth) — harnessing all music in one day and all vocals in another — and mastered by Brad Boatright (Nails, Baptists, Code Orange Kids) at AudioSiege, and the artwork and layout created by guitarist Jeffrey V. Daniels. The EP is pressed on thick virgin red vinyl in a run of 300 copies, each one including the functioning personal living will, coinciding with "Tonsil." Order the II 7" via The Compound RIGHT HERE, or 7" and shirt bundles and digital via the band directly HERE (bundles) and HERE (digital).
Additionally, DIE CHOKING has secured studio time in April to harness the band's impending debut LP. In early April, the band will raid Studio 4, just outside of Philly in Conshohocken, Pennsylvania, to record with Will Yip (Lauryn Hill, Circa Survive, Blacklisted, Cop Problem) who will fully engineer and mix the album. Cohen, who has worked with Yip in his other act, Cop Problem, supplies, "We could not be more excited to be recording our debut full-length with Will Yip at Studio 4. Aside from the sheer awesomeness of Studio 4 and long history of musicians who have recorded there, Yip is one of the most talented and driven engineers active today across a multitude of genres. I think this collaboration is going to turn a lot of heads in 2015. We've brought our playing and songwriting to entirely new levels for this LP and we could not think of anyone more fit than Yip to bring this to life. We'll been taking video and more to document the entire studio experience and share as the time comes."
Details on the album will be confirmed and announced early in 2015 for release during the Summer months.
Watch for more tour dates from DIE CHOKING, who has a late local show at Kung Fu Necktie tomorrow, Friday, December 5th, with Hollow Earth and KDC.
DIE CHOKING Live:
11/05/2014 Kung Fu Necktie – Philadelphia, PA w/ Hollow Earth, KDC
http://diechoking.com
http://facebook.com/diechoking
http://diechoking.bandcamp.com
http://www.thecompoundrecs.com
https://thecompound.bandcamp.com
https://www.facebook.com/TheCompoundRecs
http://www.earsplitdistro.com