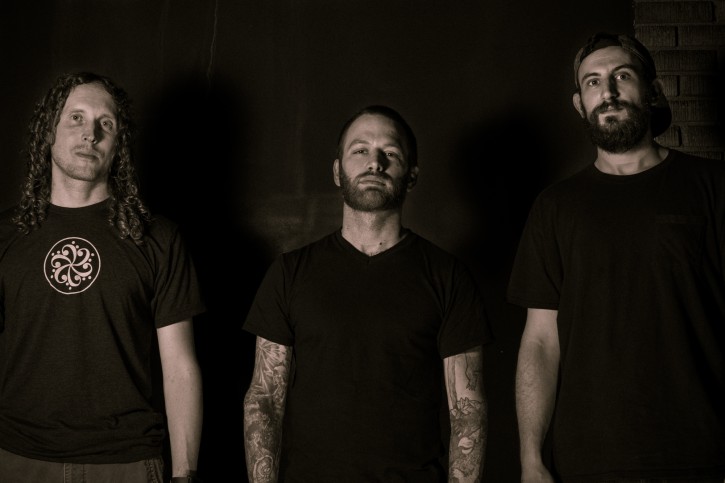 In just one week, Philadelphia's new tyrants of hyperthrash, DIE CHOKING, will release their second blazing 7", II, and today the entire EP is now playing courtesy of Decibel Magazine.
With a former member of Total Fucking Destruction and current members of Cop Problem and Burden, DIE CHOKING's hyperactive grind/thrash resounds with an even darker powerviolence edge than their self-titled EP, fueled with even more speed and vehemence, and the perfect bait to lure in diehard seekers of earthmoving brutality citing Wormrot, Brutal Truth, Human Remains, Magrudergrind and Noisear. Recorded and mixed at Mark It Zero Studios with Dan O'Hare (Brutal Truth), as was its predecessor — the music harnessed in one day and the vocals in another — II was mastered by Brad Boatright at AudioSiege (Baptists, Code Orange Kids, Integrity). The full EP is now playing at Decibel Magazine's online portal, The Deciblog, who has covered the band's previous endeavor and invited them to open for the Philly date of the magazine's annual tour, and states of their chance to stream the new tunes, "it is an honor and a privilege to be granted the opportunity to offer up this exclusive full stream of the band's new blistering, un-fucking-relenting EP, II."
Unleash a torrent of savage grind/thrash with DIE CHOKING's II via Decibel RIGHT HERE.
II will see release on September 29th on both digital and virgin red vinyl 7" in a run of 300 copies, the vinyl version including a printed document which will serve as a legal, personal Living Will, to memorialize one's final wishes upon their time of death. Preorders for the virgin red vinyl 7" can be placed via The Compound HERE and the digital via DIE CHOKING right HERE.
DIE CHOKING will celebrate the release of II with a hometown record release show on October 17th with Pyrrhon, Artificial Brain and Fantasy Panther, and also kick off a week-long DIE CHOKING and Fantasy Panther tour. Additional tour actions will be announced in the coming days.
DIE CHOKING Live:
10/17/2014 Kung Fu Necktie – Philadelphia, PA *II record release show w/ Pyrrhon, Artificial Brain, Fantasy Panther [info]
10/18/2014 The Joke Hole – Glenmoore, PA @ V.O.S. Fest w/ Fantasy Panther, Empty Vessels
10/19/2014 Voodoo Brewery – Meadville, PA w/ Fantasy Panther, Grin & Bear It
10/20/2014 Ottawa Tavern – Toledo, OH w/ Fantasy Panther, Grin & Bear It
10/21/2014 The Foundry – Cleveland, OH w/ Fantasy Panther
10/22/2014 Quarters – Milwaukee, WI w/ Fantasy Panther
10/23/2014 Standard Projects – Hortonville, WI w/ Fantasy Panther
10/24/2014 The Poison Lawn – Knoxville, TN w/ Fantasy Panther
10/25/2014 Rock Room – Pittsburgh, PA w/ No Brainer
10/26/2014 DIV Lounge – Montclair, NJ
11/16/2014 Dishaus – Baltimore, MD w/ Visions Of War, Wrath Cobra, Incisor [info]
"Featuring past and present members of such family-friendly units as Total Fucking Destruction and Cop Problem comes Die Choking, a Philadelphia trio hellbent on grind obliteration with their new EP II." – Noisey
"The great thing about this release is that you can just put this on an endless loop and you'll never get tired of it. The grind is real, the grind is great and the grind is intense. 4/5" – Headbang Or GTFO
"Despite its extremely short duration, Die Choking have once again given more diversity within the five minutes that II exists than some bands do in an entire 45 minute full-length." – Volumes Of Sin
"Furious, modern Grind like this is always an enjoyable treat when played and delivered well. Die Choking raised my expectations of them with their first release and the second keeps these expectations high." – Wonderbox Metal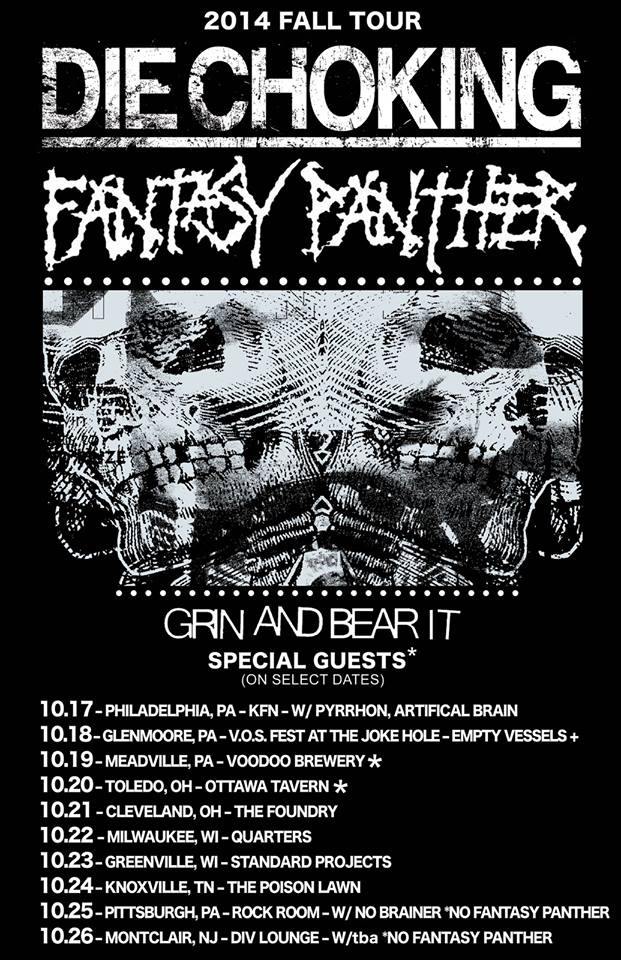 http://diechoking.com
http://facebook.com/diechoking
http://diechoking.bandcamp.com
https://www.facebook.com/TheCompoundRecs
http://www.thecompoundrecs.com
http://www.earsplitdistro.com