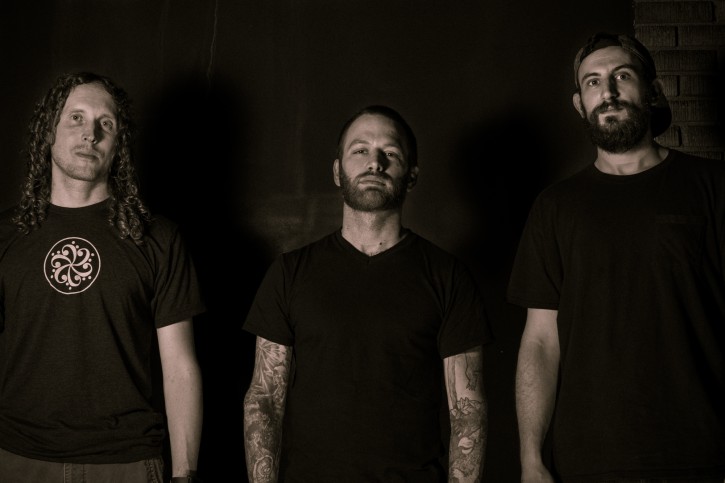 Now just two weeks from release is the second 7" from Philadelphia-based hyperthrash/grindcore trio, DIE CHOKING, simply entitled II, and as The Compound prepares for the wax to hit the streets, today Cvlt Nation leaks a new track from the decimating EP.
Brutal doesn't even begin to describe the output this destructive, light-speed release, as DIE CHOKING picks up where their debut self-titled EP left off, discharging five songs in less than six minutes. Yet an equally heavy theme surges within the band's lyrics on II, most notably in its closing track, "Tonsil." With the vinyl version of the EP, the band is including a printed document which will serve as a legal, personal Living Will, to memorialize one's final wishes upon their time of death.
Issues founding bassist/vocalist Paul J. Herzog of the track's lyrics and the inclusion of the Living Will with the EP, "This song is a dedication to the memory of Jahi McMath who died on December 12th 2013. Despite the absolute, irreversible nature of brain death she (as far as I know) remains on 'life' support. The controversy of this is obvious but my interest is geared more towards the broader subject of CHOICE in regards to medical treatment during end of life scenarios. It is unfortunate, but families often contradict explicit wishes of dying loved ones. The severe and painful nature of pursuing a 'do everything you can' mentality is dire to say the least. This, to me, is pure tragedy. My goal is to open the dialogue a bit and introduce a tool to communicate the questions one needs to ask should they or a loved one be in a life threatening or life ending circumstance. Most people WILL end up THERE and not simply die in their sleep nor arrive to a facility DOA."
Cvlt Nation is now hosting an exclusive stream of "Tonsil" as well as a peek at the Living Will document and a more extensive statement on the song at THIS LOCATION.
Noisey/Vice previously unleashed the EP's opening track "Non-Yielder" RIGHT HERE.
II will see release on September 29th via The Compound and DIE CHOKING, on both digital and virgin red vinyl 7" in a run of 300 copies. The band's hyperactive, earthmoving grind/thrash resounds with an even darker powerviolence edge than their self-titled EP, with even more velocity and fury fueling the tunes. Recorded and mixed at Mark It Zero Studios with Dan O'Hare (Brutal Truth), as was its predecessor — the music harnessed in one day and the vocals in another — II was mastered by Brad Boatright at AudioSiege (Baptists, Code Orange Kids, Integrity).
Preorders for the virgin red vinyl 7" can be placed via The Compound HERE.
DIE CHOKING has booked a hometown record release show for II on October 17th with Pyrrhon, Artificial Brain and Fantasy Panther. This show will begin a week-long DIE CHOKING and Fantasy Panther tour which is partially confirmed, with several shows in the final stages of planning, and new shows are already being booked for later in the Fall.
DIE CHOKING Live:
10/17/2014 Kung Fu Necktie – Philadelphia, PA *II record release show w/ Pyrrhon, Artifical Brain, Fantasy Panther [info]
10/18/2014 The Wasteland – Kutztown, PA @ V.O.S Fest w/ Unknown To God, Empty Vessels, Fantasy Panther [info]
10/19/2014 Voodoo Brewery – Meadville, PA w/ Grin & Bear It, Fantasy Panther
10/22/2014 Quarters – Milwaukee, WI w/ Fantasy Panther
11/16/2014 Dishaus – Baltimore, MD w/ Visions Of War, Wrath Cobra, Incisor [info]
"Featuring past and present members of such family-friendly units as Total Fucking Destruction and Cop Problem comes Die Choking, a Philadelphia trio hellbent on grind obliteration with their new EP II." – Noisey
"The great thing about this release is that you can just put this on an endless loop and you'll never get tired of it. The grind is real, the grind is great and the grind is intense. 4/5" – Headbang Or GTFO
http://diechoking.com
http://facebook.com/diechoking
http://diechoking.bandcamp.com
https://www.facebook.com/TheCompoundRecs
http://www.thecompoundrecs.com
http://www.earsplitdistro.com