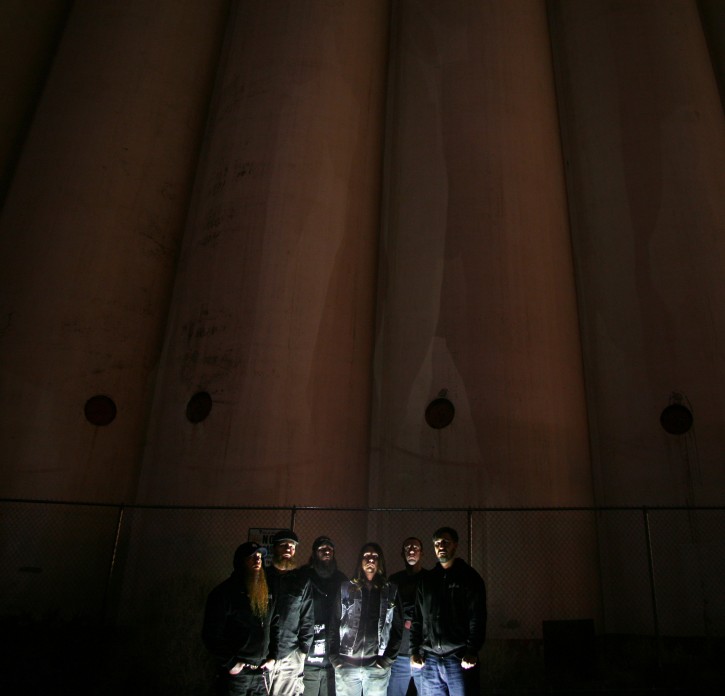 Tucson, Arizona's GODHUNTER has confirmed an upcoming split release with their cohorts in Oakland, California's Secrets Of The Sky, to be released in conjunction with their upcoming Western US tour together.
During the first two weeks of June, GODHUNTER will take their confrontational political sludge metal to the West Coast in support of their newly-released debut LP, City Of Dust, the announcement coming amidst an intense torrent of rave reviews of the album filtering in from all around the planet. The entire tour will be with Oakland's progressive doom metal sextet, Secrets Of The Sky, beginning with both bands performing at the annual Doom In June Fest in Las Vegas June 6th and 7th, joining Novembers Doom, Christian Mistress, Acid Witch, Ides of Gemini, Demon Lung and more.
Now the bands confirm a new split recording being finalized for release in conjunction with the tour. Featuring dynamic, brand new material from both GODHUNTER and Secrets Of The Sky, the split EP will initially see a limited DIY release on cassette specifically for this collaborative tour in June. Then in September, a deluxe audiophile 10" vinyl version of the split will see a collaborative release between Earsplit's The Compound label and GODHUNTER's own Battleground Records, as with the City Of Dust album. Further details on both versions of the release will be made available in the coming days.
Following its release digitally and on CD in February, GODHUNTER's City Of Dust will be available in a deluxe vinyl edition later this month, in a run of 300 copies on clear 180-gram vinyl with red splatter, poly-bagged with a black sleeve and full-color 12"x24" lyric/liner sheet and full-color jacket. Preorders for this edition are available via Earsplit Distro; all LP orders placed before May 1st will include a free copy of the album on CD. Preorder placement for the vinyl as well as and an arsenal of additional GODHUNTER merch can all be located HERE
Stream all of City Of Dust at The Obelisk, RIGHT HERE.
GODHUNTER Confirmed Tour Dates:
4/12/2014 The District Tavern – Tucson, AZ w/ Amigo The Devil, Inoculara, Chamber [info]
6/06/2014 Cheyenne Saloon – Las Vegas, NV @ Doom In June w/ Secrets Of The Sky [info]
6/07/2014 Cheyenne Saloon – Las Vegas, NV @ Doom In June w/ Secrets Of The Sky [info]
6/08/2014 Stork Club – Oakland, CA w/ Secrets Of The Sky
6/09/2014 Frankie Teardrops – San Luis Obispo, CA w/ Secrets Of The Sky
6/10/2014 Billy O's – Ventura, CA w/ Secrets Of The Sky
6/11/2014 The Complex – Glendale, CA w/ Secrets Of The Sky
6/12/2014 The Palms – 29 Palms, CA w/ Secrets Of The Sky
6/13/2014 The District Tavern – Tucson, AZ w/ Secrets Of The Sky
6/14/2014 Tempe Tavern – Phoenix, AZ w/ Secrets Of The Sky
"… one of 2014's best albums. City of Dust is a structured and informed refusal of acceptance. In the sludge style, we rarely get this much substance." – Heavy Planet
"…the eight component tracks of the 49-minute album come across with staggering intensity despite what's usually a fairly grueling pace. It is as much a multi-chapter sludgecore manifesto as it is a collection of memorably-riffed songs… they've presented a multifaceted and passionate foundation from which to progress… City Of Dust is more than just a sludge record". – The Obelisk
"…an intelligent, gritty, heavy beast and a force to be reckoned with… Godhunter's brand of towering sludge is something to look out for in the future. 8/10" – American Aftermath
"…that rare album where the whole is greater than the sum of its influences… one impressive achievement.. 8.5/10." – Global Domination
"…you really feel the nihilistic tone in every word…This album is heavy as an elephant's balls." – Echoes And Dust
"What Godhunter do have in spades is riffs… this is only the beginning." – The Sleeping Shaman
"The subtitle for City of Dust is 'A Conversation Between Hope and Despair,' and these words encompass the album's themes of fear, despair, confusion, and yes, even a dash of hope." – About.com
"If the results sound as fresh as they do on this local act's full-length debut, the genre has some vitality left in it." – Tucson Weekly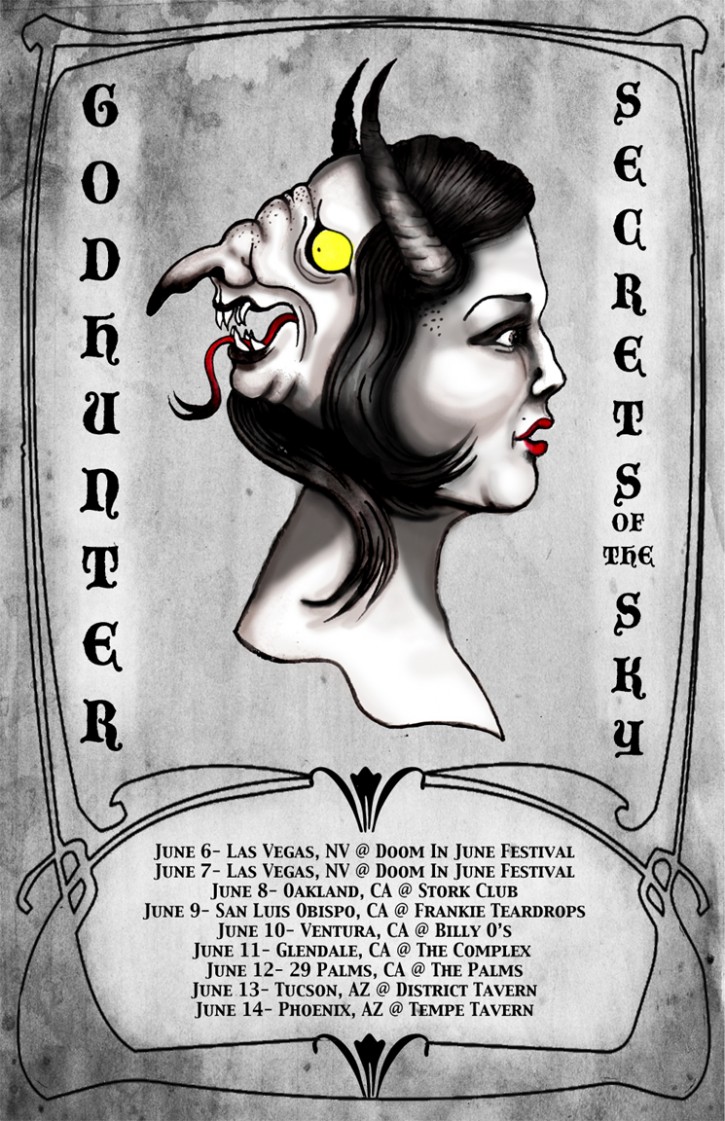 http://dirtweedmetal.com
http://godhunter.bandcamp.com
https://www.facebook.com/godhuntertucson666
https://www.facebook.com/battlegroundrecords
http://www.thecompoundrecs.com
https://www.facebook.com/TheCompoundRecs
http://www.earsplitdistro.com